World Record Sheep Dog Price for Skipton Youngster
22/07/08
North Yorkshire sheep dog supremo John Bell smashed the world record price paid at an official sale for a young dog under one-year-old at Skipton Auction Mart's summer sale of working sheepdogs. (Friday, July 17)
John Bell with Bob, which achieved a new world record price for a dog under 12-months-old when sold for 4,000 guineas at Skipton.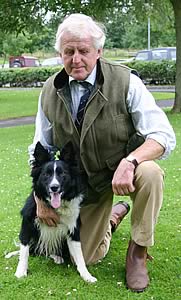 John, of Parks Farm, Howden, near Selby, achieved the feat with "Bob," an 11-month-old black and white dog, which made 4,000 guineas (£4,200) – narrowly failing to better the highest price ever paid for a working dog of any age.

This was also achieved at Skipton in 2004, when a two-year-old black and white bitch "Floss" was sold by 20-year-old Lancastrian Tom Lawrenson, of Brindle, near Chorley, for 4,100 guineas (£4,305). Coincidentally, this topped the previous world record price set in 2003 by John Bell at 3,125gns (£3,282).

Bob was bought by a Scottish purchaser, who asked to remain anonymous. Earlier, soon after the sale began, the same buyer just failed in his attempt to secure another John Bell entry as the under bidder on a 12-month-old black and white bitch "Gwen."

This dog achieved the second highest price of the day at 3,000 guineas (£3,150) when snapped up by another Scottish dog handler, who also requested anonymity.

John Bell was topping the prices for the third seasonal Skipton working dogs sale in succession – and for a record-breaking 12th time in the past seven years.

Bob was bred by Calderdale handler Trevor Smith, of Colden, Hebden Bridge, who sold him as a pet to a lady living in Humberside. Not settling to domestic life, Bob came into John Bell's hands when seven-months-old.

Under his expert tuition, he has since developed into a very high-class nursery or work dog – now up to full trial standard. There was fierce competition at the packed ringside for the talented youngster.

Robin Booth, of Feizor, Settle sold his October, 2006, dog "Spike" for 2,600 guineas (£2,730) to yet another buyer from north of the Border, Iain Wilson, of Knoydart in Invernesshire. Iain reports that he is well satisfied with his new acquisition, who has quickly settled in.

"Wisp," a September, 2005-born dog from James Burrows, of Carnforth, made 2,000 guineas (£2,100) when purchased by Lowther Park Farms, Penrith.

A total of 68 dogs were entered in the sale. Broken dogs sold to 4,000gns (av £1,618), part-broken dogs to 950gns (£555), pups to 140gns (£79).

Seasonal working dogs sales at Skipton continue to create widespread interest among vendors and buyers from both at home and overseas. Many Skipton-sold dogs have gone on to achieve high profile successes on the trials field, including taking open and international supreme honours.

The autumn sale of working sheep dogs at Skipton takes place on Friday, October 24. Entries close on October 10.

Michael Parker Peaks Again at Skipton Store Lamb Opener


Greenwoods' Debut Skipton Prime Lambs Title


Lawsons Land Craven Dairy Auction One-Two