Greenwoods' Debut Skipton Prime Lambs Title
09/07/08
West Marton father-and-son sheep farmers Richard and Robert Greenwood took the July prime lambs championship at Skipton Auction Mart with a pen of five Charollais-x-Texel youngsters, first prize winners in the Continentals class. (Mon, July 7)
Robert Greenwood, right, and judge James Dewhirst
with the July prime lambs champions at Skipton.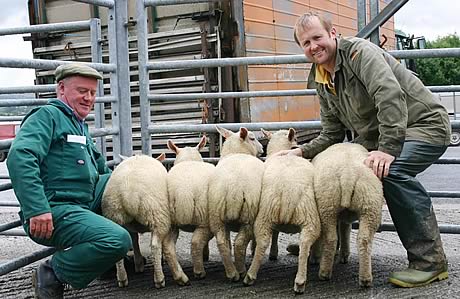 The Greenwoods, of Marton Scar Farm, prolific winners of Skipton store lambs trophies over the years, were winning the prime lambs title for the first time. Their 37-kilo charges sold for £56 per head (151p/kilo) to John Penny, of Rawdon, Leeds.

Best of the Suffolks came from local farmer Andrew Taylor, of Broughton. His 45-kilo pen of five lambs was knocked down to show judge James Dewhirst, of Skipton-based Stanforths Butchers for £61 each. Mr Dewhirst also bought the second prize 48-kilo pen from Bobby Turner, of Draughton, at £65 apiece.

Back in the Continentals, Stainforth-based Richard Caton's second prize pen of 35-kilo Texels sold for £48 a head to Andrew Atkinson, Harrogate, who also purchased the third prize pen of 39-kilo Texels from Ellis Bros, Addingham Moorside, for £54 each.

The show was sponsored by Guy Machinery, based locally at Skipton Auction Mart. Almost 2,500 sheep passed through the ring on the day.

Lawsons Land Craven Dairy Auction One-Two


Borderway Black and White Sale 2008


Identifying the True Costs of Farmers' Own Labour 2008