Suffolk Sheep Society Appoints New Chairman
14/07/08
Michael Weaver has been elected chairman of the Suffolk Sheep Society. Former vice-chairman, Michael takes the reins from Stephen Cobbald who stepped down due to new farming commitments.
Michael Weaver, newly elected chairman of the Suffolk Sheep Society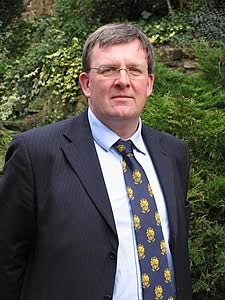 He acknowledges: "We have a challenging but very exciting time ahead because it really is a fresh team at the helm, with an appointment of a new chief executive imminent.
Michael's is the third generation of the family to be involved in the Perrinpit flock and therefore brings a life-times experience in Suffolk sheep breeding. A former county chairman of Gloucestershire National Farmers Union, he has also served on the NFUs national council and livestock board, being chairman of the regional livestock board in 2006/7.
He says: "Life has not been easy in the sheep industry. With the transition towards 2012's likely closure of Single Farm Payment, lamb producers have to reshape their businesses: As suppliers' of pedigree and terminal sires, we are working to satisfy customer needs for uniform quality carcases grown off grass with minimum veterinary and labour inputs.
"Suffolks have evolved over time and will continue to evolve through technological and genetic developments for the benefit of commercial producers. "I believe we have made an excellent start to that process, with the Society's five year plan the catalyst:
Easy care traits are currently being researched through CASE student Stepanie Matheson
Genetic marker tests are being trialled
Aberystwyth trials are nearing completion
Gold and silver performance recording is available to all members
The Perrinpit flock of 200 ewes supplies ram lambs and shearling rams to the commercial and pedigree markets. Says Michael: "Within our own Perrinpit flock we have listened to our customers' 'wish list' and are pursuing those requirements. We all need to give our customers what they need for their own businesses to be successful, because if they aren't successful, my own business is affected."
Perrinpit Farm comprises 500 acres in south Gloucestershire with cereals and grass also supporting 100 head of beef cattle, which are predominantly homebred suckler cows and calves. Michael runs the farm with his father who is semi-retired and one fulltime employee. He is married to Sarah and they have two children, William (19) and Lucy (18).

Flexibility Key to Builth Wells Success


New Zealand Suffolk Open Day


National Suffolk Sheep Sale Postponed