New Zealand Suffolk Open Day
02/07/08
Commercial sheep farmers have a unique opportunity to look at more profitable sheep production when the UK's first New Zealand Suffolk Sheep open day takes place in Shropshire on Saturday 12th July.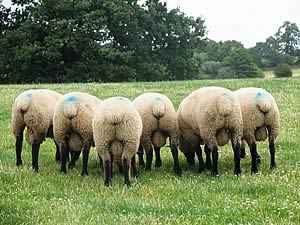 Host Robyn Hulme explains that the family 'ram breeding' business is based solely on providing commercial sheep farmers with the appropriate tools to enable them to reduce their production costs and to increase their profits.

The removal of all subsidies in New Zealand over 20 years ago meant that the current difficulties of UK sheep farmers have already been explained by NZ farmers who were forced to breed sheep that required minimum labour input and had maximum disease resistance. Today in NZ one person is able to look after a minimum of 3000 ewes and their lambs.

By importing NZ Suffolk genetics and copying their grass/forage/no concentrate management system we can offer British flock masters all the benefits of long living, highly fertile rams who produce easily born lambs that will finish off grass with minimum labour input.
Speakers at the Pikesend Farm, Ellesmere, event, will include:
English born ROSEMARY HAMILTON, who, with her NZ husband, has been running 6,500 ewes on the South Island.
ROBIN FAGAN is also a NZ farmer who also owns NZ's leading sheep and cattle handling equipment - Racewell.
Signet's general manager SIMON BOON
Sheep veterinary specialist HARRIET FULLER.
Innovis will demonstrate Genemarker Technology and North Wales based LTS will be showing how the use of EID and automatic data collection, using Racewell handling equipment, can help to create a more profitable business.

The final NZ feature will be a 'HELMSMAN AUCTION' which will see ten pure and half pure NZ shearlings and ram lambs offered for sale.

The event is supported by Beter Returns West Midlands, Shropshire Rural Hub and EBLEX. If you would like to attend the open day call Robyn Hulme on 07971 970 918 to assist with catering.

Signet Sire Summary first for Hampshire Downs


Plan Early Lambing Carefully Despite Excellent Spring


Builth Wells Ram Sale Organisers Optimistic