New John Deere XUV Gator at Royal Show
06/07/08
Increased power and ground clearance, a higher top speed and improved suspension are features of the new XUV 850D 4x4 Gator utility vehicle from John Deere, which has been developed following extensive customer feedback sessions.
John Deere's new XUV 850D 4x4 Gator utility vehicle won the transport category in this year's Farmers Guardian New Equipment Awards 2008, which were judged at the Royal Show on the first day, Thursday 3rd July.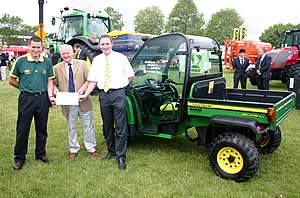 Designed for greater off-road and rough-terrain performance, this latest addition to the award-winning Gator range made its official public debut at the 2008 Royal Show at Stoneleigh Park, Warwickshire, where it won a New Equipment Award (see notes to editor below).

The XUV Gator's 24hp (850cc) liquid-cooled, three-cylinder Yanmar diesel engine is the most powerful and quickest accelerating in its class, with the fastest top speed at 30mph (in high range). Advanced clutching ensures smooth power delivery and engine braking assistance from the dual range constantly variable transmission.


John Deere's new XUV 850D 4x4 Gator utility vehicle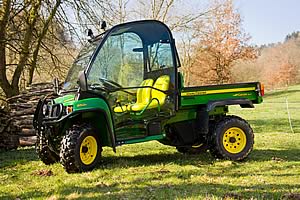 All round independent suspension offers improved handling, operator comfort and ride quality, with 175mm (7in) of suspension travel and 270mm (nearly 11in) of ground clearance, aided by larger wheels and tyres. This enables the XUV Gator to follow rough and bumpy terrain with ease while keeping all four wheels firmly on the ground, whether the vehicle is fully loaded or unladen.

Maximum capacity of the steel tipping cargo box is 453kg, while total payload capacity is 635kg and towing capacity is 590kg on level terrain.

Based on a hydroformed steel frame for increased durability, the XUV Gator also offers the only true four-wheel drive traction system on the utility vehicle market. Activated by a simple dash-mounted electronic rocker switch, this on-demand system incorporates lockable front and rear differentials to maintain excellent traction in the toughest ground conditions.

Additional operator friendly features include a glove box and storage compartment, cup holder, 12V power outlet and integrated 50mm (2in) rear hitch. The standard four post ROPS frame can be optionally upgraded to a deluxe full glass cab if required.

UK list price of the new XUV 850D 4x4 Gator utility vehicle, which is available from August 2008, starts at £9299.

John Deere AutoTrac Developments


Claas Complete Takeover of Renault Agriculture SAS


Cornish Contractor Racks Up the Hours on Case IH Magnum 225 Tractor