John Deere AutoTrac Developments
26/06/08
Following last year's announcement on 8030 Series tractors, John Deere is now delivering all 8030T and 9030/9030T Series tractors AutoTrac-ready at no additional charge. The wheeled and tracked models covered now range from 225 to 543hp.
John Deere 8430T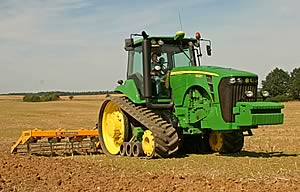 This means that the tractors have all the internal hardware required to operate the company's automatic guidance system installed as standard equipment during the factory's assembly process. Customers then simply need to add and activate a GreenStar display and StarFire iTC GPS receiver.

AutoTrac increases the accuracy of any straight or curved line operation in the field. Depending on the required level of accuracy, the guidance system can be individually tailored to customer needs to help reduce fuel, fertiliser, chemical and labour costs, and improve the quality of work.

John Deere offers three different types of in-cab display and GPS signal activation. There is a choice of SF1 (+/-30cm), SF2 (+/-10cm) and RTK (+/-2cm) signals to match the full range of field applications: SF1 for tillage, spraying and slurry spreading; SF2 for harvesting, mowing, seeding and planting; and the repeatable RTK accuracy for planting and bedding.

In addition to this development, customers may now order AutoTrac as an option on the 100hp 6230 and 110p 6330 Premium tractors, making it fully available throughout the 6030 Premium Series range. Previously AutoTrac was only optionally available down to the 120hp 6430 Premium model and its predecessors.

A new version of the AutoTrac Universal steering wheel kit is also now available from John Deere dealers, offering improved performance with levels of accuracy closer to those provide by the integrated system. ATU 200 looks identical to the existing unit, but features a faster, more powerful stepper motor. This means it turns onto the track more quickly and accurately, with significantly better line following, and it can be used on machines with heavier steering than before.

Claas Complete Takeover of Renault Agriculture SAS


Cornish Contractor Racks Up the Hours on Case IH Magnum 225 Tractor


John Deere Now Third Largest Worldwide in Agricultural Irrigation