15/07/08
Sally Wilson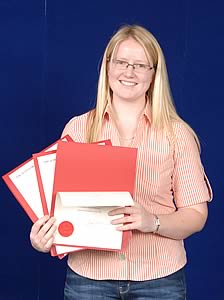 SAC student, Sally Wilson from Berwickshire, has been appointed Member of the Year, 2008 by the Scottish Association of Young Farmers Clubs (SAYFC). In addition, Sally has also been awarded an SAC Trust Traineeship.

Originally from Berwickshire, Sally is a third year student studying Agriculture at SAC's Edinburgh campus. As well as being a busy student, Sally is also an active member of the SAYFC and has recently taken over as the Chair of the Agriculture and Rural Affairs Committee.

Sally has also recently been awarded an SAC Trust Traineeship. The SAC Trust Traineeship, awarded to three SAC students every year, will give Sally an insight into the work of SAC's Consultancy Services whilst on a paid placement this summer.

SAC Becomes Scotland's Newest Higher Education Institute


SAC Sponsored SAYFC Stage at Royal Highland Show


Defra Must Not Turn Back the Set-Aside Clock