Planet Offers Sky-High Milk Production with Udders to Last
16/07/08
AI company Dairy Daughters has secured supplies of one of the hottest bulls on the international market, which takes second place on the current American TPI list, surpassed only by the renowned Picston Shottle.
Ensenada Taboo Planet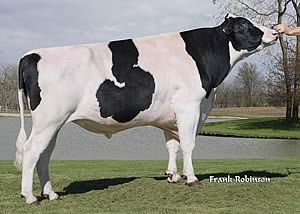 The bull is Ensenada Taboo Planet, whose appeal to producers is not simply for the exceptional milk production he transmits to his daughters, nor for combining this with outstanding udder qualities, but also for offering an unusual outcross pedigree. Remarkably, he also combines his high production with a negative score for cell counts (SCC index -7).
Planet's dam is the exceptional production cow, Plushanski Amel Patty EX92, who attracted the attention of US stud, Select Sires – above all for her exceptional udder, dairy strength and unique pedigree – and they used her extensively as a bull mother. She is now almost nine years old and after an extensive flushing programme, has just calved her fourth and is producing a staggering 80kg a day. Many of her descendants are already showing the same exceptional milk production tendencies.
Planet's sire is Rose-Baum Taboo – a bull which escaped the notice of the elite genetics industry but which sired sound, workable, medium-sized daughters with good longevity.
"The desire with this mating was to produce a bull that could sire leading production and solid type from an outcross pedigree, and so far Planet is exceeding expectations," said a Select Sires analyst.
"His daughters exhibit the same qualities that we found in his dam and led us to work with her in the first place. They show great dairyness with the ability to produce lots of milk from great udders. Udder are high and wide with strong central support and closely placed front teats. Frames are moderate but thurls and pins are wide."
Said to be an ideal choice on daughters of Justice, Outside and Shottle, Planet's own first crop proof weighs in with an incredible 991kg milk, which puts him easily in the top 10 for milk of all available bulls in the UK. Of these high production bulls, he is also one of the highest for type transmission, with a Type Merit of 1.5, including an excellent 1.97 for udder composite. The bull himself is classified EX90.
Bred in Pennsylvania, USA and tested through Select Sires' programme across a wide cross-section of states, Planet's first crop proof in detail is 991kg milk, 29.1kg (-0.1%) fat, 28.5kg (-0.04%) protein; PIN (Profit Index) £45; PLI (Profitable Lifetime Index) £174.

Toystory Returns to Offer UK Holstein Breeders the Complete Solution


International Award for British Dairy Company


Andrew Strengthens Cogent Team