Pedigree Texel Sheep Flocks Mean Business
24/06/08
Pedigree Texel sheep flocks founded almost 20 years ago as a hobby have proved a valuable enterprise alongside a pedigree dairy herd for a Scottish farming family.
The Rascarrel team - left to right, Matthew MacTaggart,
Fiona MacTaggart, Brian Wilson, Derek Graham and Tommy MacTaggart with the milking cows.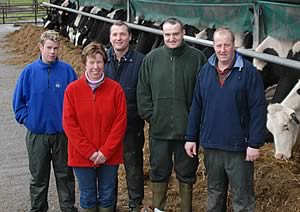 The 417 acre Rascarrel Farm, which lies on the shores of the Solway Estuary at Auchencairn, near Castle Douglas, has been farmed by the same family for 44 years.

Tommy and Fiona MacTaggart now run the farm having taken over from Fiona's parents Jim and Ellice Hendry who continue to be in the partnership.

The family employs two full-time workers, tractorman Brian Wilson who has worked at Rascarrel for 13 years, and dairyman Derek Graham, whose predecessor Jim McFern was employed for 21 years.

Traditionally a dairy farm, the Texel flocks were set up in 1989 –the company's flock bears the Rascarrel prefix while Fiona, son Matthew, 18, a student in rural enterprise and land management at Harper Adams University College, and triplets Ewan, Tom and Rebecca, 12, own the Auchencairn flock.

Established from 11 foundation females, there are now 85 ewes between the flocks which have been built up using mainly home-bred ewes which are run alongside the Rascarrel pedigree Holstein Friesian herd of 180 cows.

"Other than wintering sheep, we had never had any sheep on the farm. I had always been involved with sheep through the family haulage company and my brother has pedigree Texels," said Tommy, who for six years has been a director of the Texel Sheep Society and is immediate past chairman of the Solway and Tyne Texel Club.

"We liked the Texel because of its carcase, tremendous muscle and its ability to produce a modern export lamb. We have always bred the sheep for their commercial attributes, including carcase, skins and growth, aiming for the commercial market and if we are fortunate enough to get a breeder's sheep then that's an added bonus."

"What started as a hobby has grown into part of the business," he added.

The foundation ewes were bought from well-established flocks – two each from the Gaitskill, Stonefieldhill and Cambwell flocks and five from the Pergil flock.

Since then, only three females have been purchased for the Auchencairn flock from the Carlisle in-lamb sale and four females for the Rascarrel flock. The flock is MV and EA accredited.

The flock earned a reputation in the show ring with a home bred ewe by Baltier Wizard winning the breed championship at the Royal Show in 1997 and the breed and interbreed championships at Dumfries Show in the same year.

Since then ram lambs have been sold to 12,000gns at the Carlisle September 2006 sale for Rascarrel Masterpiece. The same year, shearling rams sold to 4,600gns and an average of £1,535 for eight, marking one of the best years for the flocks.


Texel ewe lambs


Females have sold up to 7,500gns to Procters Farms, Slaidburn, Clitheroe, and manager Gary Swindlehurst returned to buy more females privately. Most are sold through the ring at Carlisle, Lanark, Worcester, Builth Wells and Castle Douglas pedigree sales.

"In 2007 we had an exceptional year considering the disruptions caused by foot and mouth," said Tommy.

"Our best price was for a ram lamb which sold for 3,400gns to the Stonebridge flock at the Worcester sale. We also sold a ram lamb at Lanark for 2,500gns to the Campbells, of Thrunton. We averaged £600 for shearling rams at Carlisle with a top of 900gns and females sold up to 3,400gns."

In the flocks' early days one of the first sires Cambwell Uplift had a great influence in establishing the females lines. Subsequently, Turin Estonian put more bone and carcase quality into the flock and Kelton Young Gun, a son of Annan Vigour, also had a big impact on the females coming into the flocks.

Then followed Baltier Wizard and Stonebridge Fantastic, the latter unfortunately being taken in the contiguous cull of 2001 on the farm of the joint owner.

The advent of the National Scrapie Plan had a regressive influence on the type of sheep the MacTaggarts were aiming to breed, with only a small pool of Group 1 rams to buy in the first few years of the scheme to improve the flocks' ewe genotypes, 60 per cent of which at the time were Group 3.

Cambwell Impressive and Tophill Jewel helped improve the genotypes and more recently Douganhill King, a son of Jersey Dudeck have had a large impact on the sale of ram lambs and females.

Stock sires for this year's lambs – 20 ram lambs are sold each year - are Templand Megane and Hullhouse Northern Light, which is jointly owned with Jennifer and Geoff Aiken. All the ewes are in lamb to these to sires as well as Douganhill King. There are also some embryos to lamb to Glenside King.
The dairy herd was upgraded to pedigree 14 years ago and cow numbers over recent years have increased from 120 to 180 cows.

Seventy per cent of the herd is put to the black and white bull with the remainder to the British Blue and Limousin. All crossbred cattle and pure bred steers are finished on the farm and sold deadweight.

The herd has a rolling average production of 8,800 litres at 4per cent butterfat and 3.3 per cent protein even though 60 heifers have been brought into the herd this year to increase numbers, with the milk selling to Milk Link, of which Tommy was a council member until August 2007.

Holstein Friesian sires are selected for their feet, udders and longevity as well as low cell count – the herd's is currently running at between 80 and 145 SCC and milk sold is consistently in premium band A.

The current Genus sires used are Drake, Shottle, Degas, Reece, Modesto and Homestead. A stock bull, Gornall Tiptop, is used on the heifers.

Heifers calve at a target age of 30 to 32 months old. The MacTaggarts have tried calving heifers earlier but found them easier to get back in calf and retain body condition if left later as well as improving longevity which is high for the herd.

The cows are split into four groups and fed a total mixed ration. The groups are high yielders which are fed 6kg of a blend of soya, beet pulp, wheat and barley grains; middle yielders get 4kg of the blend with it reduced to 2kg for cows which are low yielders. The blend is mixed with grass silage and some straw.

Cereals are grown on between 35 and 50 acres for home use as part of the re-seed rotation. A further 35 acres of coastal land is a SSSI.

The cows are milked in a Fullwood 16x16 parlour installed eight years ago and they are topped up with up to 8.5 kg of cake at a rate of 0.35kg per litre. High yielders are fed at M plus 22 litres, medium yielders at M plus 18 litres and low yielders at M plus 16 litres.

Dry cows are fed silage and straw and are also fed cobs from 35 days prior to calving.

Heifers are fed with the cow groups but are topped up at M plus 15 litres to encourage growth and maintain body condition when competing with older cows.

Cattle and sheep are all computer recorded and the herd's nutrition is handled by Carrs Billington and Tarff Valley.

Barn at Beal Visitor Centre Sheds Light on Farming Today


In the Pink with British Blues


Exploiting the Potential of Beef Production