25/06/08
Cheese makers from across the world will be going head to head for the honours at this year's 150th Great Yorkshire Show.
Hattie Noble and Amy Gillson of
Hebden Royd CE School judging cheese at the 2007 Great Yorkshire Show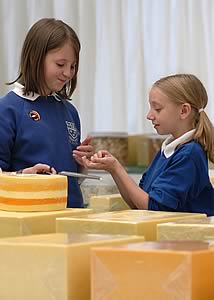 Record numbers of entrants will be vying for the top awards in the annual Great Yorkshire Cheese and Dairy Show, which forms part of the North of England's largest agricultural event. The Show runs from Tuesday 8 – Thursday 10 July and takes place at the Great Yorkshire Showground, Harrogate.

When it was re-introduced six years ago there were a total of 301 entries. Its popularity has grown so much that for this year, there are a record 826 cheese and diary entries – and Chief Steward Jayne Hickinbotham is delighted with the response from exhibitors.

"Entries have increased year on year to this year's record breaking figure. They have come from across the world, from as far afield as New Zealand, the Netherlands, France, Italy and Spain, as well as many cheesemakers from Yorkshire," said Miss Hickinbotham.

"We have made sure that all the dairy products are well represented across the competition – from hard and soft cheeses to liquid milk, butter and ice cream, and they all have the chance of winning the Supreme Championship and other big prizes," she said.

And schoolchildren from the region will be given the chance to join the experts and become judges at the event. Youngsters from The Whartons Primary School, Otley and English Martyrs RC Primary School, York will be rolling up their sleeves to make their judgements in a special class within the show. The eight youngsters will be testing the taste, aroma, consistency and flavour of a variety of cheeses following their training at the recent Countryside Days* event at the showground. There they had their first taste of cheese judging and won the competition to be judges at the Great Yorkshire Show.

This year, for the first time, virtually all the major national supermarkets have entered – Morrisons, Marks and Spencer, Tesco, Asda and Waitrose.

A number of local businesses are making their debut including Birchfield Family Dairies, of Summerbridge, near Harrogate who have entered their butter and ice cream, Cryer and Stott Cheesemongers, who are based at Castleford, and Yellison Farm Goats from Castleton-in-Craven, Skipton.

Classes to look out for include Celebrity Choice, when local celebrities are given the chance to pick their favourite dairy product. Previous judges have included Emmerdale's Chris Chittel and BBC Look North's Harry Gratian and Christa Ackroyd.

Countdown Commences to 2008 Kilnsey Show


Future Farmers to Reunite at Royal Welsh Show


Second Borderway Agri-Expo Builds On Inaugural Success