Limousins Top Royal Highland for 4th Year Running
24/06/08
For the fourth year in a row the Limousin Team of Four won Saturday's Blue Riband Interbreed Championship at the Royal Highland Show, held at Ingliston, Edinburgh 19-22 June 2008.
Brockhurst Batik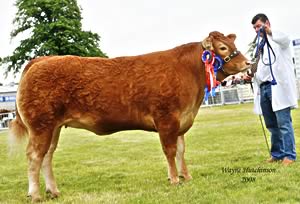 Master Judge Mr. David Leggat of United Auctions praised the balance of the winning team which comprised the Limousin Male Champion and Reserve Limousin Champion Hartsideanew Argos from Harry Emslie, Kinknockie, Mintlaw, Peterhead, Aberdeen; Limousin cow and first prize winner Ronick Money from Bernard Mairs, Croftburn, Hillhead Rd, Ballyclare, Co Antrim and two in calf heifers, Limousin Supreme Champion Brockhurst Batik plus Brockhurst Bolshoi, both from WJ & M Mash Ltd, Torrington Farm, Grove Lane, Chesham, Bucks. Doug Mash has now the distinguished honour of having won Supreme titles at all three mainland Royals, following previous successes at the Royal Welsh, Royal Show and now the Royal Highland.

The Judge, Mr. Leggat, commented: "This was an exceptional team which impressed me with the dominance of the bull together with a fantastic example of a 12 year old Limousin breeding cow alongside two evenly-matched in calf heifers." The consistency of breeding was further in evidence with all the team's bloodlines going back to the great Limousin cow, Broadmeadsows Ainsi.

Further honours went the way of the Limousin breed with Brockhurst Batik taking the Reserve Individual Interbreed title and Hartsideanew Argos teaming up with Ronick Money to stand Reserve Pairs Champions on the Sunday.

An outstanding show of females, high in quality and strong in depth had lit up the Limousin breed judging on the previous Thursday. From maiden heifers through to senior females the classes demonstrated a showcase of Limousin breeding females full of class, breed character and style. It was perhaps no real surprise therefore that the day's Champion animal came from the female ranks and what a popular winner she was. Brockhurst Batik, an April 2004 heifer with impeccable breeding, got the nod from judge Mr Chris Pennie from the noted Sarkley Herd, Gwern Yr Ychain, Llandyssil, Montgomery, Powys. It drew cheers from the large crowd and of course the winning breeder and exhibitor WJ & M Mash Ltd, all the way from North Buckinghamshire. "The overall standard of entries was very high, particularly in the very strong female classes from where I selected my Champion, Brockhurst Batik, who had great style and breed character. My Team of Four was very powerful and really picked itself," said Mr Pennie.

Winning the Highland was a poignant moment for Doug Mash himself as it completed the domestic Triple Crown for the Brockhurst Herd of having won Supreme Championships at The Royal Show, Royal Welsh Show and now the Royal Highland Show. Brockhurst Batik is not without her Scottish roots. An embryo calf, she is out of Ronick McAinsi and is sired by Grahams Samson. Ronick McAinsi was purchased from the Stirling herd of R Dick for a maiden heifer record of 28,000gns at Carlisle in 1997 and subsequently was crowned Royal Show Champion in 2004. Grahams Samson, bred by R& J Graham, Strling, was sold to Penrith breeder Doug Edgar for a then world record 55,000gns in February 2003. These tremendous bloodlines had combined to produce the classy Brockhurst Batik. Both Batik and her full sister, Bolshoi, are in calf to Samy, the record three-time Royal Show Burke Trophy winner.

In Overall Reserve Supreme position was the Male Champion Hartsideanew Argos presented by Harry Emslie, Kinknockie, Mintlaw, Peterhead. It was a tremendously emotional win for Mr. Emslie who had tragically lost his father in a farm accident in the week prior to the show. This three year old bull, bred by Mr. JM Thompson, Melmerby, Penrith, had been purchased for 8,000gns at the October 2006 Carlisle Sale. By Greenwell Ronick and out of Eden Suzie, Hartsideanew Argos was very long and combined width, a good top and tremendous muscling.

Following the Male Champion right through the classes was John Nimmo's three year old bull, Virginia Andy, who was crowned Reserve Male Champion. Sired by Elite Popsi and out of Marlhill Naomi, he was bred in Ireland by Mr. Leo McEnroe, Co Cavan.

Standing Reserve to Brockhurst Batik in the Female classes was the Junior Female and Overall Junior Champion, Windsole Caroline, from Messrs W Lawson. March 2007 born, she is by the French sire Rocky and out of Windsole Utopia. This was the second major Ingliston success for the Windsole Herd having gained the Overall Supreme with Windsole Julia at the 1996 Royal Highland, the first year they had entered. Junior Male Champion was R& J Graham's Grahams Chieftain, a son of Utah and out of the homebred dam, Grahams Ulinda.

In the Commercial Cattle section, it was a one-two for Limousin sired steers. Taking the Champion's sash was Thomas Laird & Son's Silver Lining, an eighteen month old steer by Hudscales Unlimited. Neil Slack's Fernando, a June 2007 born bullock sired by Gunnerfleet Plunas took the Reserve spot.

ASDA Offer Discount on Limousin Semen


NI Simmentals Take World Stage at Omagh


Beef Production Costs are New Priority says NBA