ASDA Offer Discount on Limousin Semen
23/06/08
ASDA's beef farmers are being offered semen from the prize winning Limousin bull, Sauvignon, with a massive 62.5% discount on price.
Sauvignon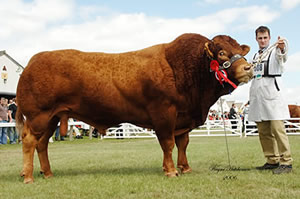 Working in partnership with long term partners, Anglo Beef Processors (ABP), ASDA is offering semen from Sauvignon, owned by the Northern Irish pedigree cattle breeders the Crawford Brothers, who run the Rathkeeland herd of pedigree Limousin cattle. At the SIMA/SIMAGENA Show held in Paris last year, Sauvignon was crowned both Limousin Male Champion and also Limousin Carcass and Limousin Progeny Champion. He also picked up the 2007 ASDA Supreme Interbreed Beef Championship at the Great Yorkshire Show.
To date, Sauvignon has only been affordable to pedigree breeders, but ASDA has now made the bull's semen realistically priced for its commercial producers. A typical semen straw normally costs £20, but through ASDA's new scheme, Sauvignon straws are available at the reduced price of just £7.50.
Commenting, Pearce Hughes, Agricultural Development Manager at ASDA said: "Earlier this year through our BeefLink scheme, ASDA set out clear market signals regarding the criteria of beef that we are ideally looking to obtain, E and U grades, 2/3 fat class with a weight range of 300-380Kg, by rewarding suppliers with a new 10p/Kg 'Extra Special' bonus. This latest, unique initiative will help our farmers provide us with this quality of cattle."
This latest ASDA BeefLink initiative ties in to ASDA's endorsement of sexed semen - Sauvignon is the first Limousin bull in the world, and the first beef bull in the UK, from which sexed semen is available. Sexing semen is a technology pioneered by Cogent Breeding and a process now so accurate that it can guarantee over 90% of all sperm in a straw are female. ASDA has been promoting the technology to its dairy farmers for some time, but is now also encouraging its beef farmers to exploit this technology to breed top quality replacements for their herds. By using sexed semen over maiden heifers beef farmers can help protect the welfare of their herd. Heifer calves weigh on average 5 – 10Kg less than their male counterparts and make for an easier first birth.
It also links with the high welfare artificial insemination training courses, being held by the supermarket in conjunction with Cogent, during which ASDA beef and dairy farmers are given a master class in insemination using a new prosthetic cow from Australia.
"Having access to affordable semen from the current European Carcass and Progeny Champion will give our producers the chance to improve the quality, efficiency and long term profitability of their herds. It's also great that we are able to offer our farmers semen from the bull who reigned supreme in the class sponsored by ASDA at what we regard as our local event, the Great Yorkshire Show." said Mr. Hughes.

NI Simmentals Take World Stage at Omagh


Beef Production Costs are New Priority says NBA


Coolnaslee Charolais Females Peak at 5,500gns