Zinfandel & Dancer are Latest Dairy Daughters Holstein Offering
08/05/08
Two exceptional type Holstein bulls – both with Type Merits of over three points - have been added to Dairy Daughters 'elite' range and are currently on offer at £15.95 per straw.
Ocean-View Zinfandel daughter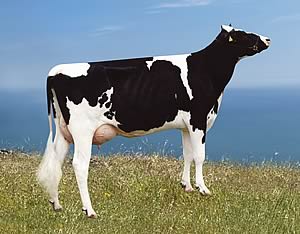 Ocean-View Zinfandel has been jointly progeny tested in both the USA and Germany, and comes through with a particularly promising proof this April. He offers in particular an outstanding score for feet and leg composite at 3.13; good quality udders (2.25) and an overall Type Merit of 3.05. His linear shows daughters to be tall with depth, dairy strength and angularity.
A Merchant son out of the great Ocean-View Mandel Zandra EX95, Zinfandel is half brother to the Durham son Zenith, although daughters are said to have a steeper heel than his half brother's typical progeny.
Sire analysts in the USA describe Zinfandel daughters as having a similar 'shine' to Zenith progeny, and to exhibit the 'dairy form you would expect from his pedigree'.
Ahl Dancer, the second newcomer to the stud, offers even higher type at an extraordinary 3.74 Type Merit, earning him number three position for type of all available bulls in the UK - behind only Braveheart and Shottle.
A line-bred Durham son from an Excellent Patron daughter and a total of three generations of EX dams, his interesting pedigree is matched by an outstanding linear. Scoring 3.47 for udders and 2.61 for feet and legs, sire analysts also praise his 'style and balance'.
"We're delighted to have secured these two exceptional conformation bulls," says Dairy Daughters managing director, Evans Drayton. "In line with our company policy of offering value-for-money quality, we are particularly pleased we can currently offer them at this price. We achieve this by keeping our overheads low and concentrating on telephone marketing. In these uncertain economic times, I think farmers would rather pay less for a quality product than subsidise the cost of an expansive sales force on the road.
"The information on these and all other bulls' proofs is so readily available today that many farmers prefer to find it on the internet for themselves than be guided by a rep visiting their farm."

British Bull Enters Sexed Semen Record Books


Cogent Launches New Sexed Jersey Semen


New Dairy Herd Study Reveals PLI is Worth £4.50 per Point