Cogent Launches New Sexed Jersey Semen
23/04/08
With jersey bull calves almost worthless, Sexed Semen from a UK bred Jersey is a real winner.
Potterswalls Just Belle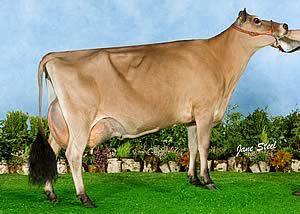 The bull is Potterswalls Belles Pride, an exceptional young bull bred from 7 generations of Excellent cows from the great Duncan Belle family.
He was born in Northern Ireland where his dam is a successful show cow that produced over 6,000kg at 5.7% fat and 4.0% protein in her 2nd lactation.
Belles Pride is now readily available from £31.
Put some Pride in your herd today by calling your local breeding advisor or freephone 0800 783 7258.

New Dairy Herd Study Reveals PLI is Worth £4.50 per Point


UK Milk Production at 37 Year Low


New Mobility Monitor On Offer from NMR