02/04/08

As part of the Year of Food and Farming, the Cumberland County Show has set up a project ensuring primary school children find out where food comes from.

Grand parade at the Cumberland County Show
© www.jennifermackenzie.co.uk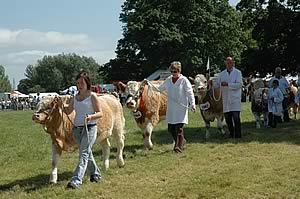 From the 14th to 24th April over 900 children from north Cumbrian primary schools will be visiting farms in the area to learn why farming matters and to understand where their food comes from. Using six volunteer farms over 8 days, the Cumberland Agricultural Society has set up this project, taking classes from local schools, to demonstrate different aspects of farm life and food production to the children.
After a trial run in December, attended by Lord Rooker of DEFRA, the society were very pleased with the result, and the feedback from the children. The project fits with the aims of the society and is being run with the support of the Cumberland Building Society, the Government Office for the North West and the NFU.
The visits are being staffed by volunteers dedicated to educating young people about farming and food production. Farms volunteered to take part, and cover a variety of farming skills including different diversifications such as ice cream and yoghurt making. Other local businesses are also involved in supporting the project. The project finishes with a competition to win cash prizes for schools, and which will be displayed at the Cumberland County Show on Saturday 19th July, and judged by Lord Rooker.

SAC Student Wins Lantra Award


Land Management in a Changing Environment


SAC Signs Agreement with New Zealand's AgResearch