Orpingtons Rule Roost at Craven Feather Auctions
19/03/08
Cononley, near Skipton, husband and wife poultry breeders Keith and Anne Chatburn ruled the roost yet again when landing their third championship success of the year at the Craven Feather Auctions show of poultry and waterfowl at Skipton Auction Mart. (Sat, March 15)
Keith and Anne Chatburn, right, with the Craven Feather Auctions Large Black Orpington champions, joined by judge Geoff Marston and steward Shelley Rogerson.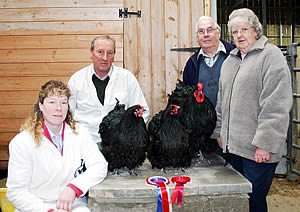 The couple's trio of exhibition standard Large Black Orpingtons, hatched in 2007, won the large fowl class before going on to take the supreme championship and selling for the day's top price of £110 to Mrs M Robson, of Cowling.

Orpingtons from Mr and Mrs Chatburn have already won best in show at the 2008 Northern Show in Hipperholme and the best large fowl class at Longridge Show, Clitheroe. The couple have been breeding hens for 40 years, raising both Orpington and Sussex varieties.

Reserve champions, a trio of Welsummers from S Hitchen, Halifax, sold for £64 to Alan Barnes, Great Harwood.

Mr Barnes also exhibited the highest price per head birds with a pair of White Wyandotte Bantams, sold at £108 to Pamela Lupton, Ripon.

Show judge was Wyandottes specialist Geoff Marston, of Wetherby, who has officiated at the English and Scottish Nationals, with Shelley Rogerson, of Leeds, vice-chairman of the Croad Langshan Club, acting as steward.

It was again a big day at Skipton Auction Mart, with the poultry show supported by the popular bi-monthly Agri-Trader Auctions of machines, reclamation and salvage, furniture, garden and general items of interest to farmers, collectors and the general public.

Craven Feather Auction Prize Awards: Large Fowl - 1 K Chatburn (Black Orpington), 2 AJ Bennett - Gold Welbars. Waterfowl – 1 Wilson Bros (Buff Orpington), 2 R Whalley (Geese). Bantams – 1 S Hitchen (Welsummer), 2 D Agar (Austraulops).

Top prices:
Large Fowl: Trio Black Orpington £110, 3 Barnevelder Pullets £86, 2 Buff Orpington Pullets £80, Trio Gold Silkie £80, 3 Silver Laced Wyandotte Pullets £66, 2 Welsummer Pullets £52, 2 Speckled Sussex Pullets £52, Quartet Lakenvelder £50, Trio Light Sussex £50, 3 Welsummer Hens £50.
Ducks: Trio Apricot Call £50, Pair Apricot Call £42. Bantams: Pair White Wyandotte £108, Trio Silver Laced Wyandotte £68, Trio Welsummer £64, 2 Black/Gold Silkie Femals £56, Trio RIR £50.

Skipton Easter Prime Lambs


Baines Beltex Brace Bags Title at Skipton Prime Lambs Show


Planning to Make the Most of Lamb Exports