Latest Round Balers from Case IH
29/03/08
Grassland 2008 visitors will see Case IH's latest RBX344, RBX454 and RBX464 round balers at the brand's stand, the first UK showing for the newly numbered models following production moving from the US to Plock, Poland.
Case IH RBX344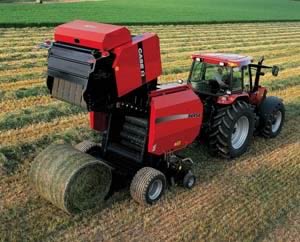 The fixed-chamber RBX344 features a 1,700Nm high torque capacity driveline clutch to enable the baler to travel quickly when baling without suffering from blockages and to easily cope with variations in crop density.

The proven RBX454 and RBX464 variable-chamber balers offer bale sizes up to 150cm and 180cm in diameter respectively. Available in both stuffer feeder and rotor feeder variants, an optional Serpentine Roller kit helps prevent silage wrapping round the rollers, particularly useful in wet conditions.

Case IH will also demonstrate its broad tractor range including livestock farm favourites, the 76hp to 106hp JXU range and 86hp to 101hp CS Pro range, both featuring the latest Tier III engines, while at the other end of the power scale, an STX Quadtrac will be teamed with a trailed JF-Stoll FCT 1355 forager harvester to provide an impressive forage solution.

"Although the JF-Stoll FCT 1355 does not need the power of the STX Quadtrac tractor, the two together make a formidable team," explains Case IH area manager, Andy Whiley.

New Claas Liners Speed Raking


John Deere Parts Training Places Up For Grabs


Farm Vehicles Penalised Again in Budget