Greg Bliss Becomes New National Chairman of the TFA
13/03/08
The Tenant Farmers Association's new National Chairman is arable and sheep farmer Greg Bliss from Cambridgeshire who takes over following the retirement of Reg Haydon who has held office for the last 13 years.
Gregg Bliss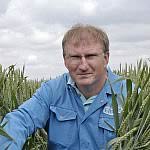 Greg Bliss said, "There is no doubt that I step into the chairmanship of a strong, vibrant Association. Over the 13 years of Reg Haydon's chairmanship, the TFA has gone from strength to strength. It is now well placed to advise its growing membership and to be an influence for good in Whitehall, Westminster and Europe. I want to build on those strengths to ensure that the TFA meets the demands of its discerning members".

"The agenda of issues that I will face as TFA National Chairman is already full. This year, obviously rent reviews are going to be a key concern. In recent years there has been a dearth of rent reviews with rents remaining fairly static. This followed a period of high activity in the late 1990's and the early years of this century which saw farm rents fall up to two or three times from their peak levels of 1996. It is no surprise then, with the upturn in some farm gate prices, that landlords' agents have been advising their clients that it would be timely to issue rent review notices. However, we have been seeking to remind them that they need also to be looking at the cost side of the equation," said Mr Bliss.

"The list of other issues to be tackled includes changes in the area and rules relating to Nitrate Vulnerable Zones, the continuing scourge of bovine TB, cost and responsibility sharing for animal diseases, the CAP Health Check, climate change adaptation and mitigation, food security, agri-environment policy, taxation, planning, retirement, affordable housing and the future of County Council Smallholdings to name but a few. These are all areas where the TFA continues to play a major role on behalf of its members and the landlord tenant system in general," said Mr Bliss.

"The TFA was set up 27 years ago to promote and protect the interests of the tenanted farming sector generally and in particular to represent and advise tenant farmers on all tenancy and ancillary matters. That will remain the TFA's focus under my chairmanship. My mission is to provide a complete service to all farmers who rent land through advice, information, on-going support and to act as an effective advocate on their behalf with all public and private bodies with an interest in or influence over tenant farmers and the tenanted sector in agriculture. The TFA should be the first port of call for tenant farmers seeking help, information or advice" said Mr Bliss.

Reg Haydon Becomes First TFA Honorary Life President


TFA National Road Show on Farm Rents Gets Underway


Great North Meet Conference