Reg Haydon Becomes First TFA Honorary Life President
13/03/08
The Tenant Farmers Association has made its outgoing National Chairman, Reg Haydon, Honorary Life President of the TFA following his retirement as National Chairman at today's TFA Annual General Meeting (13 March).
Reg Haydon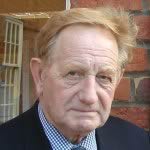 New TFA National Chairman Greg Bliss said, "Given Reg's immense and unique contribution to the TFA and to the agricultural tenanted sector we could not let him stand down as National Chairman without due recognition for all he has done. Created with Reg in mind, the office of TFA Honorary Life President is awarded to recognise extraordinary and meritorious services by past National Chairmen who have made an outstanding contribution to the Association. There can only be one Honorary Life President at any one time and currently I cannot foresee that anyone in the future would have done enough to deserve this award as much as its first recipient, Reg Haydon".

Reg Haydon has held the post of TFA National Chairman for 13 years and has been in various senior positions for the association for a total of 18 years. Having served on the South East TFA regional committee from the early 1980's, Reg became Vice Chairman of the TFA's South East region in the autumn of 1990 and two years latter was appointed as the region's Chairman. In February 1994 he was elected TFA National Vice Chairman and rose to be elected TFA National Chairman in April 1995. He was awarded the OBE for services to agriculture in the 2006 Birthday Honours of Her Majesty the Queen.

"Unquestionably, and by any measure, Reg has been an excellent National Chairman of the TFA. The strength of the TFA today both as an advisory and support service to farm tenants and a powerful advocate on their behalf has much to do with Reg's determination and personal effort. Reg has taken the voice of the tenant farmer to the highest levels of Government," said Mr Bliss.

"Under Reg's watch the TFA has grown to new levels of recognition, expertise and influence. The Association is now a major support to farm tenants throughout the country including Scotland where Reg was instrumental in helping to establish our sister organisation, the Scottish Tenant Farmers Association, in 2004. As Reg stands down as National Chairman he leaves a significant legacy not just for the TFA and its members but the whole agricultural industry in Great Britain," said Mr Bliss.

Greg Bliss Becomes New National Chairman of the TFA


TFA National Road Show on Farm Rents Gets Underway


Great North Meet Conference