20/03/08

The announcement yesterday (Weds) that the Surveillance Zone for Bluetongue has been extended to the north, means that the Great Yorkshire Showground now lies within the restricted area.

Cattle Parade in the Great Yorkshire Show's main ring at the Great Yorkshire Showground

.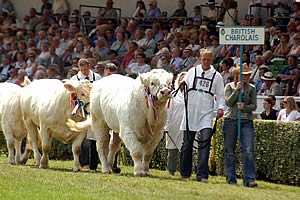 Livestock schedules for the 150th Great Yorkshire Show (Tuesday 8 – Thursday 10 July) had just been sent out to exhibitors with a letter inviting entries from all areas but saying that entry cheques would not be processed until closer to the show dates to reflect the most up to date situation. This remains unchanged.

Bill Cowling, Honorary Show Director of the Great Yorkshire Show said: "Until this latest announcement we had expected to get most of our cattle and sheep entries from the North of England and Scotland. The announcement reverses that and we now expect most entries to come from within the zone ie south of Harrogate.

Having said I think it's very likely that the restricted area will move again before July, hence we continue to invite all exhibitors to enter. I am sure we will have an excellent show of cattle and sheep, maintaining our standard for both quality and quantity."

Livestock are the focal point of the Great Yorkshire which regularly sees more than 1,000 cattle, 1,800 sheep and some 250 pigs.


Royal Show Date Change Annoys Yorkshire Show Organisers


Hamper Surprise from The Great Yorkshire Show


New President for Yorkshire Agricultural Society