06/08/07

The generosity of a farming friend has led to a welcome surprise for a Leeds visitor to the Great Yorkshire Show.

Left to right, George Hamilton of Growing Routes and farmer Steve Willis presenting the hamper to Geoff Thackwray at the Great Yorkshire Showground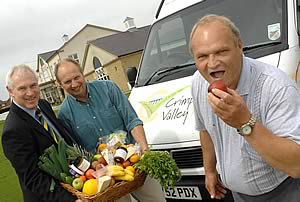 Geoff Thackwray was invited to the three day farming and country event by Malcolm Silversides who farms at Scholes. Whilst he was there, Mr Thackwray entered a competition in the Farmers Meet area of the show and was delighted to learn that, as a result, he was the winner of the luxury food hamper, generously donated by Crimple Valley Fresh of Harrogate.

This week Mr Thackwray was presented with the hamper by George Hamilton, Programme Director for the Yorkshire Agricultural Society's Growing Routes which organises the Farmers Meet area at the Great Yorkshire Show and Harrogate farmer Steve Willis. Mr Willis, who farms at Fulwith Mill, Harrogate, recently launched his food delivery business Crimple Valley Fresh and put together the hamper contents as part of the new venture. Steve Willis said, "I was pleased to be able to help with the hamper in recognition of the support my new business has received from Growing Routes to get started."

Growing Routes is the Yorkshire Agricultural Society's initiative which supports entrepreneurs in the rural sector within Yorkshire and the Humber.

Mr Thackwray from Swarcliffe, Leeds said: "I hadn't been to the Show since I was a teenager so I was delighted when Mr Silversides asked me to go with him. I thoroughly enjoyed my day, particularly looking around all the agricultural machinery. It was a great day out with so much to see."

Over the three days more than 200 farmers visited the Farmers Meet pavilion and in addition, the Agriculture Minister, Hilary Benn and farming supremo, Sir Don Curry also included it on their itinerary.

George Hamilton, of Growing Routes said: "The Farmers Meet is becoming an established point of interest at the show and it is great to be able to highlight some of the year round activities of the Society and showcase some of the farming businesses that have received assistance."

New President for Yorkshire Agricultural Society


Countryside Live 2007 - A Feast of Fun


New Venue for 2007 for Tockwith Show