Semex Heifer Smashes Holstein Record at Smiddiehill Sale
11/03/08
Progeny from Semex No1 LPI bull Braedale Goldwyn made headline news with record-breaking prices at the recent Smiddiehill dispersal sale.
Smiddiehill Goldwyn Pledge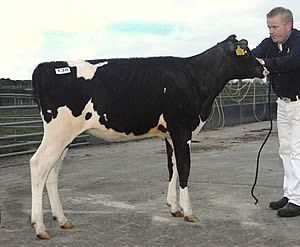 Smiddiehill Goldwyn Pledge, which auctioneers described as having the 'hottest pedigree on the planet', stole the show when a whopping 50,000 gns was paid by the Cornish Wills brothers for the six-month old calf - a new record for a maiden heifer sold in the UK.
As well as being sired by the top-class Braedale Goldwyn, the heifer is out of Windy-Knoll-View Pledge and has a back pedigree including Comestar Outside and Startmore Rudolph. The overall sale price for the 19 Goldwyns was over £197,000 - extraordinary considering that most of the animals were under a year old. With the overall average for all Holsteins sold at £7,712 - this also marked a new record for prices achieved at a sale in the UK.
Gordon Miller, managing director of Semex UK, commented on the outstanding prices, "These record-breaking prices prove that Braedale Goldwyn really is in a class of his own. His figures speak for themselves - with an exceptionally low somatic cell count, high milk volumes, excellent fat and protein percentages and sensational all-round type, he continues to be in high demand for flushing cows to breed the next generation of elite sons and daughters. The prices paid at Smiddiehill demonstrate the confidence that breeders have in our high quality Semex sires - which are really delivering the goods in all types of production systems."
Next up was Goldwyn Melanie selling for 23,500gns from the renowned dam Hillcroft Leader Melanie (All-American and All-Canadian 4-year old champion and All-American Mature Cow Champion and All World Cow 2005-year old champion.) Goldwyn Dacia, Reserve Champion Calf at the National Holstein Show 2007, sold for 15,000gns.
All the other Goldwyns sold for exceptional 4 digit figures, including Goldwyn Sharon at 14,000gns and Goldwyn Erle at £13,000.
Other Semex progeny commanded exceptional prices at the sale, such as Ridgefield September Amy who sold for 11,500gns, Denmire Gibson Marie, bred by the Dennison family, sold for 18,000gns along with her two heifers at 11,000gns and 12,000gns respectively and finally Indianhead Rubens Rachel Red who sold for 15,000gns.

Union Outlines Necessity for Milk Price Rise


Semex Boosts UK Portfolio with Seven New Bulls