Semex Boosts UK Portfolio with Seven New Bulls
14/02/08
Semex UK has added seven new bulls to their portfolio, continuing to provide UK dairy farmers with a wide range and depth of sires to suit all types of production systems.
Morningview Ashlar daughter Struys Ashlar Wallace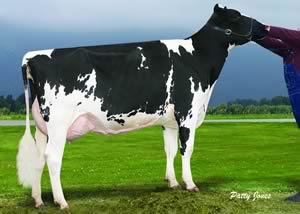 Magor Bolivia Allen, an Allen son from Goldwyn's dam, is a born leader as the No.1 type sire in a US proof at +3.74PTAT. He has a breeding pattern similar to his sire, and combines tremendous strength and width with commendable figures of+549kg Milk, +0.10% Fat and -0.02% Protein on the UK scale.

Willie Tait, Semex UK's genetics manager commented, "We have some great, high quality sires newly available in the UK, really delivering the goods for producers in terms of key functional traits and production figures. We have already received huge interest in Magor Bolivia Allen - an outstanding sire with high type, high fat and low somatic cell count. Glenhaven Carnival and Morningview Ashlar are already proven to provide profitability over the long term, coming in at No. 3 and No. 4 respectively on the Canadian Lifetime Profitability Index. We have also added two sires coming from the renowned Laurie Sheik family - Comestar Littoral and Stantons Sidney, both breeding easily managed and long lasting cows. We are confident that these additions will prove to be popular choices amongst UK producers, whatever their breeding goals may be."

Morningview Ashlar comes into his own in terms of health and fertility, breeding medium-sized cows with low somatic cell count and positive daughter fertility that will work well in any UK management system. He transmits an ideal combination of yield, fat and protein % to maximise milk income. An exciting Goodluck son, Glenhaven Carnival breeds daughters who are highly fertile and will save money on insemination and replacement costs. With high fat and protein % and the ability to lower somatic cell counts, he will also improve production returns. Very desirable milking speed and superb temperament make Carnival daughters easy and trouble free cows.

Dairymen aiming to boost milk will find that Stormatic son Comestar Littoral fits the bill, breeding very high producing cows with tremendous lasting ability and excellent temperament. Daughters stand straight on their legs for great mobility. Stantons Sidney combines two prolific Holstein families – the Laurie Sheiks and the Saturdays. By the every popular Comestar Lheros, Sidney's daughters are stylish with wider rear udders, strong median suspensory ligaments and hard loins, making them very functional and profitable additions to any herd.

An excellent all-round type sire is Charpentier Magot, one of the first proven Stouder Morty sons. With exceptional feet and classy udders, Magot daughters display great strength and rate highly for conformation and UK type. Another Morty son introduction is Freurehaven Marconi. Out of the well-respected Raven family, Marconi daughters have exceptional udder and steep foot angle. They milk easily with low somatic cell count, an ideal choice for producers aiming to increase output and revenue.

Craig Davidson Joins Cogent as Sire Analyst


New Managing Director at Semex UK


Dairy Shorthorns Increase their Share