Rocky Daughter a Knockout on Craven Champions Day
17/02/08
A baby heifer with a bright future stole the show on Craven Champions Day, the annual show and sale of commercial store cattle with future show potential at Skipton Auction Mart. (Wed, February 13).
Tom Akrigg, left, with the Skipton store cattle with show potential champion and judge Kevin Ludgate.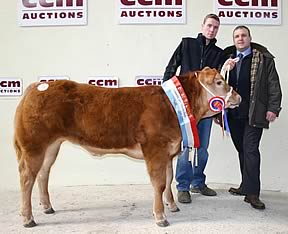 The six-month-old home-bred Limousin-cross heifer from Dalesman Chris Akrigg, of Manor Farm, Cray, was first chosen as champion in the halter-led classes before going on to take the overall supreme championship in the hands of Mr Akrigg's son Tom.

By the renowned Irish Limousin sire Rocky, out of a Limousin-cross dam, the victor went on to impress in the ring when sold for the show-topping price of £1,680 to Steven Swales, of York.

Judge Kevin Ludgate, a commercial cattle and sheep breeder from, Tebworth, Bedfordshire, said the title winner stood out in a high-quality show as "a lovely, kind animal with good potential for the forthcoming show season."

The reserve championship fell to a March, 2007, Belgian Blue-cross heifer shown by Jonathan Townley, of E&M Townley, Nutta Farm, Clapham. By the late Belgian Blue sire Ridge Dean Vespa, the home-bred runner-up, out of a pure-bred Blonde d'Aquitane cow, sold for £950 to RF Whitfield, a buyer from Cheshire.

Champion in the non halter-led section was a Belgian Blue heifer from David Broadbent, of Green House Farm, Midgley, Hebden Bridge. Shown by Linda Cropper, daughter of Jim Cropper, the renowned sheep dog handler, it sold for £960 to David Wilcock, of Wigan.

Mr Wilcock also bought the reserve champion, a Blonde d'Aquitane-cross heifer from Stephen Horsefield, Halifax, for £855, along with a Belgian Blue bullock from David Broadbent at £880.

Robert Holroyd, Hebden Bridge sold a 16-month-old Belgian Blue heifer to William Timm, Goole, for £1,080. A Belgian Blue heifer from Brian Lund, Hebden Bridge, made £900 to Matt Townsend, Laneshawbridge, the same price paid by JB Fenwick, Barnard Castle, for a Belgian Blue bullock from Rowan Leach, Halifax. Another BB bullock from John Stockdale, Burnsall, made £850 to JM Townsend.

There were further Calderdale successes when Adrian Leach, of Shackleton Hill, Hebden Bridge, supreme champion in 2007, this year won the haltered Continental bullocks class with an eight-month-old Blonde d'Aquitane, sold for £680 to RF Whitfield.

Brian Lund, reserve supreme champion last year, took first prize in the haltered Continental heifers section with an 11-month-old Parthenais-cross heifer, another JM Townsend acquisition at £845.

For good measure, Brian's 21-year-old daughter Kate Lund, who combines her family farming duties with a job in the catering department at Calderdale Royal Hospital, was awarded first prize in the young handlers class with a Belgian Blue-cross heifer. This special class was sponsored by Huddersfield-based agricultural merchant's agent Janet Sheard.

Other sponsors this year were Skipton-based Wynnstay, who acquired John Hatton Agriculture in the New Year, the North East Limousin Breeders Club, the Yorkshire and North-East Branch of the Charolais Cattle Society, BOCM Pauls and Pfizer Animal Health. In addition, the supreme champion and reserve were awarded a FABBL Assurance Scheme rose bowl by Shaun McWilliams.

A total of 69 budding bovine stars of the future were entered in the show, an established early season fixture on the North of England circuit. Previous shows have seen Skipton-bought store cattle progress to further successes in exhibition arenas across the country.

Held alongside the fortnightly sale of almost 700 young bulls, store and suckler breeding cattle, the day proved the busiest to date this year at Skipton, yielding many contented vendors and purchasers.

Swaledales Four-Timer at Skipton Auction Mart


Crisp Victory at Opening Craven Dairy Auction


Abbeyhouse Herd in Champion Form at Craven Dairy Auction