Crisp Victory at Opening Craven Dairy Auction
23/01/08
The 2008 Craven Dairy Auction season began with a local championship success for Yorkshire Dales dairyman Robert Crisp, of Nelson Farm, Calton.
The January Craven Dairy Auction champion is pictured in the Skipton ring,
with, from left, exhibitor Robert Crisp, judge Richard Saxby, of Coniston Cold, and Linda Davy, of Farmers & Mercantile.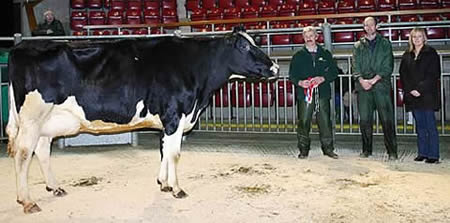 At the January show and sale, (Mon, Jan 21), a commercial Holstein Friesian cow, which produced its third calf a week prior to the fixture, took first prize in the newly-calven cows class and a second Craven Dairy Auction title for Robert.

The victor, like his debut championship winner in May last year, came from a cow bred by Robert's sister Ailsa Rushton, of Wigglesworth, and is by the Gloucestershire-based Dairy Daughters bull Kendall. The champion joined regular Skipton dairy buyer Henry Wilson, of Kelbrook, for £2,000.

Reserve champion was a newly-calven pedigree heifer giving 27 litres from Craven Dairy Auction regulars GB and J Jennings & Son, of Hill House Farm, South Stainley, Harrogate. By the AI bull, S-Man, out of a home-bred dam, the runner-up, also recipient of BOCM Pauls Craven Dairy Cup, sold for £1,750 to RG & DM Farrar, of Huby, Leeds.

Top price of the day at £2,100 fell to the third prize newly-calven heifer from Malcolm and Robert Swires, Haverah Park, Harrogate, knocked down to N Coulthurst, of Goosnargh, Preston. The second prize newly-calven heifer from Robert Phillip, Hellifield, made £2,050 to Alan Outram, Bury.

The opening show of 2008 was judged by Coniston Cold Jersey dairyman Richard Saxby, who also sold a pedigree newly-calven Jersey heifer for £1,000 to Edward Fort, Silsden.

A newly-calven Shorthorn heifer from George Emmott, Silsden, made £960 when purchased by Keith Downs, Bingley, while a batch of Friesian heifer calves from Henry Wilson sold to a top price of £410 for a five-week-old youngster, the calves averaging £298.

Newly-calven heifers averaged £1,639 and newly-calven cows a healthy £1,597.

Show sponsor was Philip Boland, of Skipton-based Trailer Test Training, with a £60 cash prize also awarded to the buyer of the champion animal by Linda Davy, of Farmers & Mercantile Insurance, Boroughbridge.

Expectations are high that monthly Craven Dairy Auctions will continue to build on the success of last year's fixtures, which saw record prices achieved during the latter part of the year. The next dairy show takes place on Monday, February 25, with entries accepted up to the day of sale.

Abbeyhouse Herd in Champion Form at Craven Dairy Auction


Skipton Charity Sheep Sale Raises Over £2,000


Keelham Hall Prime Champions Coup at Skipton Christmas Shows