19/02/08
In an on-going quest to maximise production per hectare from sustainably farmed lowland pastures, Newton Rigg college farm manager David Woodcock has reseeded swards used for fattening March-born lambs with the best quality grass and clover mixture available.
David Woodcock with the Puna II perennial chicory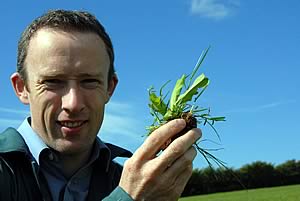 Half of the 3 hectares reseeded included an added ingredient - a new variety of perennial chicory - alongside high sugar perennial ryegrasses and white clover, allowing him to carry out a six-week study to monitor growth rates in two groups of Texel-cross lambs and assess the merits of this alternative forage source.

At the end of the period, 20 (53%) of the lambs grazing the sward containing perennial chicory had reached the target 38-40kg liveweight, while just seven lambs (18%) of the comparison group had attained target weight.

While David Woodcock is the first to admit that the project has not been a formal scientific experiment, he is in little doubt that the introduction of the New Zealand-bred Puna II perennial chicory has had a dramatic impact on growth rates, and possibly carcase quality also, and could well become a valuable new asset for those wanting more production from their summer pastures.

The 400-strong North Country Mule lowland flock at Newton Rigg, now part of the University of Cumbria, is run as a fully commercial operation, producing Texel, Suffolk or Charollais-cross lambs for either liveweight sale at Penrith or deadweight sale through Welsh Country Foods.

ewes and lambs at Newton Rigg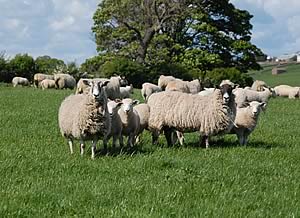 Target lambing percentage is 190-195%, and ewes receive supplementary feeding on the ground outside and then in the trough following housing from mid-January. Feeding rate increases to a maximum of 1kg/day up to lambing in March and continues following turnout, typically 24 hours after lambing, until sufficient grazing is available.
The aim is to finish all lambs off pasture following weaning, in the period from June through to the autumn.
"We are just like many other spring lambing systems in that our priority is to finish lambs as quickly as possible off pasture," said David.
"We are also seeking to farm sustainably and are therefore integrating the lowland enterprises into a whole-farm operation that includes environmental and stewardship schemes.
"In order to maximise our production from pastures during the summer we want the best quality medium-to-long term leys available, and if we can benefit from the additional qualities offered by Puna II perennial chicory then that is better still.
"In particular, I am interested in the extra nutritional value from the perennial chicory and also its potential to reduce gut worm burdens. It is also reported to be relatively drought tolerant, which could become increasingly important for pasture-based systems if we are to continue seeing changes in our climate patterns."
Puna II is an herbaceous plant with a deep taproot and – as distinct from chicory previously grown in Britain with limited success – it is a perennial plant with the potential to last up to six years in a mixed ley.
It is very palatable and provides a rich source of nutrients. The plant's deep taproot is the key to its drought tolerance, and also makes available valuable minerals and trace elements from deep in the soil profile.
The anthelmintic properties of perennial chicory are thought to be due to the presence of condensed tannins, which are known to reduce the effects of gut parasites.
"We are seeking to reduce our use of wormers and already carry out faecal egg counting so that we worm when necessary rather than by routine," he said.
"If we can cut back further by providing some kind of natural defence through the perennial chicory then that has to be a big bonus. Unfortunately our assessments over the course of this project have become difficult to interpret as there has been a widespread nematodirus problem throughout this area and the faecal egg counts taken at the outset revealed an underlying problem.
"Nevertheless, we still saw a dramatic growth rate response from the lambs on the perennial chicory, although we'll never know whether this was due to better nutrition, worm control, or a combination of both."
Puna II perennial chicory was included at 0.8kg/acre in a British Seed Houses HSG 3 mixture, which is a long term grazing ley containing Aber High Sugar Grass perennial ryegrasses and white clover.
This was drilled with an Einbock machine in mid-September following a previous ley that had been sprayed off, disced and power harrowed, and then rolled twice.
The new ley received phosphate and potash in the autumn and was top-dressed with an ammonium nitrate and sulphur fertiliser providing 27 units N/acre in the spring.
"It was notable how well the perennial chicory established," said David Woodcock. "We grazed the whole area for the first time at the end of March and then topped it to ensure a good even sward for the comparison.
"We have had no weed control or disease issues and the sward continues to look very productive with a strong perennial chicory component. There's no doubt that this is an addition that will boost our production from summer pastures and we shall be growing it more widely in the future. We have already included Puna II in other fields and our work with it is on-going."

NFU Scotland Grain Contract and Risk Management Seminars


UK Arable Land Prices Break £10k Barrier


BCPC Launch New Plant Protection Website