The Alternative Semen Company Adds Ayrshire Sires
29/01/08
The Alternative Semen Company has added Ayrshire sires from the Cattle Services (Ayr) Ltd to its offering.
Whitecroft Nellie 31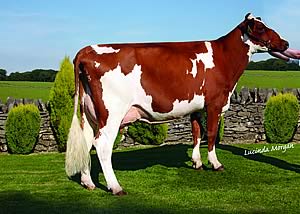 Foremost among those available is Whitecroft Mr Mo, a 100 per cent pure son of Plum Bottom Tridents Lot. Mr Mo is proven and offers improvement right across the range at +265 kg milk, positives for butterfat and protein percentage, reducing cell count, +1.7 Type, increasing Life Span, with daughters of a quiet temperament and quick milking.
"We are delighted to operate with the Ayrshire Cattle Society on a similar basis to the existing arrangement with the Jersey Society," explained Adela Booth. "We are focusing on 100 per cent Ayrshire bloodlines and, as with all our breeds, sourcing some exceptional sires."
The recent Interbull proof run sees the Brown Swiss bull, Mission, claim four Top-ten ratings in the USA for Productive Life, Daughter Pregnancy Rate and two udder traits.
The Scandinavian Red, Piuha, leads the Finnish rankings for Fertility, Calving Ease and is number two for Protein Percent.
DJ Michel 45744-00938 Henrik Jensen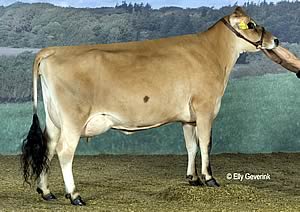 Piuha is joined by Peter, a very promising young son of the highly acclaimed Peterslund, and out of a line of VG dam and grand-dam in Sweden.
In the Jersey ranks, DJ Michel has all the attributes for a grazing system.
Exceptional increase in components, great body depth, strength and capacity, and sound feet and legs.
The Irish-bred Friesian, Liskilla Lyselle Bounty 3, is an equally good choice for the spring calving sector. Bounty 3 adds to milk quality at reduced somatic cell count, with daughters which are quiet, quick milking and walk easily.

New UK Sales Manager at Cogent


New Top Jersey and Ayrshire in Latest MDC Breeding+ Rankings


Value for Money Holstein Bulls from Bullsemen.com Dominate January Proofs