Semex AI-24 Heatime Breeding Management Package is a WInner
04/01/08
Progressive dairy farmer, Michael Metcalf, of Kirkby Thore, near Penrith, has turned up the 'heat' on farm recently through taking a new approach to both his breeding and nutrition management.
Michael and John Metcalf with centre, ARN's Ian Brown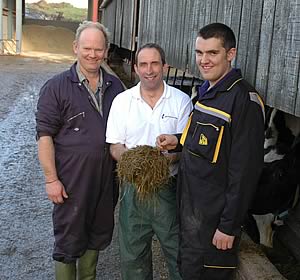 Three months on and his investment in a new breeding management package and a holistic nutritional programme has led to big business wins - achieving better fertility detection and bulling activity, improved milk quality and substantial time and cost savings.
Michael and his son, John, of Crossfell House Farm, adopted the new ai-24 breeding management package from Semex initially on a trial basis for six months with a money-back guarantee. The system allows producers to take more complete and effective control of their breeding activities, giving them access to greater efficiencies and cost-savings.
For a herd of 300, the cost works out at approximately £8.05 per cow over a three-year period. Already the Metcalfs are seeing positive results, with fertility detection accuracy rates increasing to an impressive 92%.
"Whenever I made the decision to increase my herd from 150 to 350, I was concerned that my breeding costs could also start to soar," explained Michael. "Previously we had been checking the cows by sight, but as this was only 40% to 60% accurate we were presenting a lot of animals to the vet.
"It was also very time-consuming, and we desperately needed to free up more time to spend on other management tasks."
The new fertility detection system, which comprises a collar, ID station and control unit, detects even cows that are on silent heat.
The result is that active periods aren't being missed, and only animals that have genuine problems are being presented to the vet.
Michael added: "Before, we weren't successfully detecting heat in up to 40% of the herd, and this was leading to vet costs of £11 per cow on a fortnightly basis.
"With our fertility detection accuracy rates now over 90%, we are presenting less than 10% of our animals for pregnancy detection – leading to cost-savings of over £600 a month. We are also expecting considerable savings in our semen costs due to more successful AI."
Michael and John Metcalf with Semex's Michael Dennison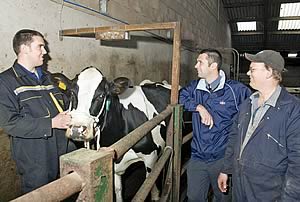 Michael Dennison of Semex said: "We're seeing a huge amount of interest in Semex ai-24 because it's really delivering what farmers need – reliability, control, time and cost-savings, and increased bio-security.
"Heatime is also very straightforward to use and its accuracy means that you don't have to put animals through the stress of unnecessary testing. The potential benefits have certainly spread by word-of-mouth – in fact, Michael has been welcoming as many as four visitors a week from as far away as Aberdeen and Perth!"
The herd's better bulling activity reflects its level of fertility which has been significantly improved in the last three months, since the Metcalfs introduced a holistic approach to their winter feeding strategy.
Yield in early-mid lactation animals has also improved from 23l/cow/day to 31.9l/cow per day and rising, butterfat from 3.69% to 4.36% and protein from 3.09% to 3.31%.
Together with independent nutritionist, Ian Brown of Advanced Ruminant Nutrition they have formulated a diet that maximises profitability per cow by taking a holistic approach. "Apart from targeting yield - volume plus components, this diet is also focused on improving fertility, minimizing lameness and subsequent longevity," Michael said.
"Before Ian became involved we had followed a computerised feed programme generated by our feed supplier. However, frustration was setting in because we believed that we were putting a lot of effort in to the herd and our cows were no where nearing their true potential."
This winter's diet was formulated from scratch using the existing ingredients on farm to supply M+28 litres based on home grown forages: grass silage, WCW and rolled wheat; plus purchased wheat distillers, Hi-Pro soya, molasses and protected oilseed rape. The only addition was Energiser Rp10, a palm based saturated fat.
"The diet's total crude protein content, including parlour compound, has been reduced from 19.9% to 17.9%," Ian said. "Within that, the proportion of DUP has increased, while the proportion of ERDP reduced. Starch content has been raised to help drive milk volumes while rumen pH has been protected by using a unique rumen buffer made to our specification. The parlour concentrate has also been reformulated from 21%CP to 16%CP.
"Michael was previously feeding a diet containing excess protein that could have been producing spikes of ammonia in the rumen and consequently in the blood. Ammonia is toxic to sperm and egg, and it also interferes with magnesium absorption and subsequent fertility."
Michael says this year's winter diet is now working out at an extra 48p per cow per day, however the extra volume and quality milk income has lifted by 225p per cow per day, This leaves an extra 177p per cow per day margin, approx £53.00 per cow per month.
"That's a good investment in my view! We're achieving a 4.5:1 return on the extra investment in improved yield alone. Added to that is the improved fertility. The diet is specifically formulated to encourage bulling activity and maximise the chance of successful embryo implantation and it's obviously working."

Semex AI-24 Heatime Could Transform Bovine Fertility Management


Milking Over 300 Cows in Just 60 minutes


Semex Dairy Conference 2008 – The Big Picture