29/01/08
The annual Yorkshire "Charity Big Farmhouse Breakfast" has raised £4,270 for Yorkshire Cancer Research.
Taking a well-earned rest from their 2008 Charity Big Breakfast duties are organisers and helpers. Host Patricia Knox is seated far left, in front of co-organiser Jane Thornhill, who runs St Giles Farm B&B in Catterick Bridge.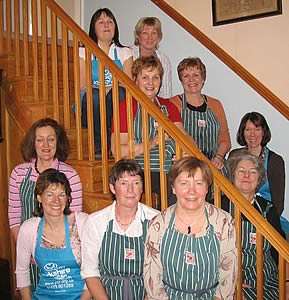 A total of 130 traditional farmhouse breakfasts were served up at last week's two-day event (Wed and Thurs, Jan 23 & 24), hosted by Patricia Knox at Mill Close Farm, Patrick Brompton, Bedale, and fellow Yorkshire members of Farm Stay UK, the country's largest network of farm-based accommodation providers.

The fund-raiser formed part of a national promotion run by the Home Grown Cereals Authority to highlight the importance of beginning the day with a proper breakfast, along with the quality of local and regional produce.

The Yorkshire charity kitty was boosted by £750 matched funding from the Bedale branch of Barclays, while food sponsors included the newly formed East Yorkshire egg marketing co-operative EggSell, which provided 30 dozen free-range eggs.

Mrs Knox thanked all Big Breakfastees for their attendance, along with sponsors, local food companies who donated breakfast fare and others who gave raffle prizes.

Yorkshire Youngsters Enjoy Hearty Breakfast at Showground


Big Farmhouse Breakfast Fundraiser


Arabelle Meirlaen is Belgium's Lady Chef of the Year