Sarkley Limousins Sell to 17,000gns at Carlisle
28/01/08
A maiden heifer at 17,000gns led the way at the tenth Annual Calf Sale from the prolific Sarkley Limousin herd of Messrs EH Pennie & Sons, Gwern-yr-ychain, Llandyssil, Montgomery, Powys, held at Carlisle's Borderway Mart on Friday 25th January 2008.
Sarkley Crystal - 17,000gns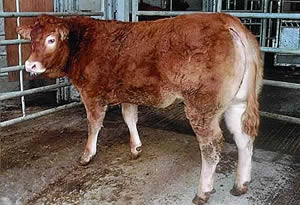 Sarkley Crystal, a 3rd January 2007 born heifer is an AI calf by the Nestor sired bull Salomon and is out of the Ronick Gains sired cow Sarkley Mystic. A heifer combining width, power and style, she was purchased for the expanding Ironstone pedigree herd of Smiths of Bloxham, Newlands Farm, Milton Road, Bloxham, Banbury. High profile purchasers once again, four of the top seven priced animals overall were purchased by the Banbury based breeders. In July 2007, Smiths of Bloxham paid 28,000gns at Carlisle for Sarkley Arriana at the Pennie's Calf Sale. Sarkley Crystal emerged from this same family line going back to Uplands Arriane. Crystal's sire Salomon has previously had progeny sold from the Bailea herd at Carlisle up to 16,000gns.
The first Limousin breeders' sale of 2008 continued the remarkable demand for Limousin females that was evident throughout 2007. In front of a crowded ring of buyers, all seventy eight animals catalogued were sold with 41 maiden heifers averaging a tremendous £2703 and 37 bulls averaging £1684. Twelve animals sold at over 4,000gns and the total sale gross was £173,145.
Exactly twenty sires featured in the catalogue, mainly top AI bulls, and each of the seventy-eight calves forward were out of a homebred Sarkley dam.
Smiths of Bloxham also purchased the second top price, Sarkley Corina, at 9,000gns. This heifer, born March 2007, is by the AI sire Rocky and is out of the Goldies Oswald sired Sarkley Virina. An animal with real shape, Sarkley Corina carried a top 1% Beef Value of LM+36. Rocky sired calves featured prominently in the best selling bull calves on the day. At the Sarkley sale in July 2007, 10 Rocky sired heifers sold to average 5,000gns. Rocky, who is by Jacot, has had sons sold up to 14,000gns at Carlisle to date.
The underbidder for the day's top price was David Kelly, for his Netherhall pedigree herd of approximately 40 females, based at Nether Hall Farms, Nether Hall, Mansergh, Kirkby Lonsdale, Carnforth. He was back in action when purchasing Sarkley Chiara for 8,000gns. This March 2007 born heifer carried a big beef value, LM+37, and a pedigree full of muscle and shape. Sired by the Genial son Nectar, Sarkley Chiara is out of the Rocky sired Sarkley Valora. Valora's granddam is Winsbury Ebony, the dam of the 11,000gns Sarkley Topknot sold in Carlisle in May 2004. Later in the sale, Mr. Kelly also purchased Sarkley Catriona for 3,500gns. This April 2007 heifer was again by Rocky and is out of another Heros daughter, Sarkley Riona. She was sold with a top 1% Beef Value of LM+39.
At 6,800gns was Sarkley Catrine, another young heifer purchased by Smiths of Bloxham. June 2007 born, Catrine is by the prolific Broadmeadows Cannon son Ronick Hawk. Her dam, Sarkley Nadine, was described by the Pennies as being 'one of the biggest Heros daughters in the herd.' This heifer was another to carry an impressive mixture of both bloodlines and figures with a Beef Value of LM+34.
At 5,500gns was the Silex sired maiden heifer Sarkley Candy. This young lady's pedigree was full of depth and quality featuring Domino, Jacot and Greensons Gigolo. Her sire, Silex, has had progeny sell at Carlisle for the Gunnerfleet herd up to 11,000gns. Her dam, Sarkley Tiffany, is by Rake Terence and is out of a Greensons Gigolo sired dam. Purchasing this stylish nine-month-old heifer was the relatively new pedigree breeder, TC Altham, a butcher by trade, from Mill Bank, Sellet Mill, Whittington, Kirkby Lonsdale. Mr Altham has established the Lunevalley pedigree herd. Earlier in the sale, the same buyer snapped up Sarkley Blackbird for 3,500gns. September 2006 born, this heifer is by Ionesco and is out of the Mythe sired Sarkley Skylark.
Messrs Ridley, Haltcliffe, Hesket New Market, Wigton, Cumbria purchased Sarkley Caryn for their noted Haltcliffe pedigree herd at 5,000gns. May 2007 born, Sarkley Caryn was described as 'a real powerhouse with width, size and character.' Sired by Homebyres Visitor, this heifer is out of Sarkley Relko, a full sister to Sarkley Eclipse who is the dam of the noted Sarkley Nellie.
Smiths of Bloxham's third purchase of the day, at 4,500gns, was Sarkley Collyjen. This April 2007 born heifer was by the famous Broadmeadows Cannon and is out of the Mas Du Clo sired heifer Sarkley Vollyjen. On the day, the Ironstone herd paid a collective 37,300 for their four quality purchases.
The day's trading had got off to a flying start when the first two animals in the ring made 5,000gns and 5,100gns respectively. Lot 2, Sarkley Cosmos, made 5,100gns and led the prices in the bull calf section. A son of Nenuphar, who has sired progeny for the Sarkley herd to 17,000gns, this February 2007 born calf is out of Sarkley Vine. Vine is a Haltcliffe Egidius daughter whose pedigree again features both Ronick Gains and Uplands Arriane. The purchaser of Sarkley Cosmos, who has a Beef Value of LM+31, was Oxfordshire breeder MS Potter, Blackacres Farm, Gooset, Nr. Farringdon for his Hannem herd.
The first animal in the ring was Sarkley Colorado who made 5,000gns. This February 2007 born calf is by the French sire Milou. His dam is the Gaulois sired Sarkley Ola, a 1998 born female who won the Royal Welsh Show Championship in 2000. This well muscled young bull, with good bloodlines and a Beef Value of LM+31 was purchased by North Powys breeders JP&CM Jones who run the Terran herd at Maesterran, Pengoes, Machynlleth.
Rocky sired calves showed great shape and conformation and were eagerly sought. At 4,800gns was Sarkley Crusader, a March 2007 born son of the Jacot sired Rocky. This calf is out of Sarkley Vorella, a daughter of Ronick Gains and a ¾ sister to the 28,000gns Sarkley Arriana. Staying local, Sarkley Crusader, who carried a LM+30 Beef Value, was purchased by RW & MR Sowerby & Son, Sycamore Rise, Great Asby, Appleby, Cumbria.
A further Rocky son, Sarkley Canyon, sold for 4,200gns to the Trewhitt pedigree herd of DA Thompson, Trewhitt Steads, Thropton, Morpeth, Northumberland. Again this 10-month-old calf was out of a Ronick Gains female, the heifer Sarkley Venrietta, and featured a top 1% Beef Value of LM+37.
AVERAGES
41 Heifers £2703.11
37 Bulls £1684.26

NBA Warns on New Charges for Fallen Stock


British Charolais Cattle Society Launches New Indexes


Poor Cattle Prices are History says NBA