27/11/07
The produce was exotic, but the young Welsh farmers from the Future Farmers of Wales on a study tour of North West Italy found that many of their problems are shared by olive producers and artisan Parmesan cheese producers as well as by other livestock producers.
"We were struck by the sheer pride shown
by the Italians in their food. ..."
© viaamsterdam.deviantart.com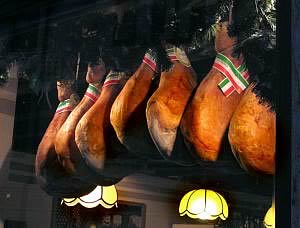 And they learned the value that can be achieved by making the very most of an authentic, regional, history. A point of difference was the general acceptance that interminable paperwork is a means of acquiring a premium and is a vital, if tiresome, part of the job!
The Italian farmers, it transpired, blame the Euro for many of the higher input prices, and young professionals complain that their salaries can't keep pace with rising property and other prices. It's not just those trying to wrest a living from the countryside who are struggling but the combination of factors means that, as on Welsh farms, profitability is elusive!
Conversation during the four day visit centred on paperwork, uncertain markets, rising feed prices, disease, climate change, and the difficulty of gaining a fair return for the primary producer. Then there was the huge capital investment in land, stock, machinery and produce – Parma Ham and Parmesan Cheese take years steadily maturing before they are ready to sell. For the Future Farmers of Wales it was an eye opener.
"The study tour took us to see producers and processors responsible for some of the most famous and respected food in the world", said Chairman Geraint Hughes who is based in Pwllheli.
"We were struck by the sheer pride shown by the Italians in their food, and their willingness to support smaller independent food companies. Farmers considered EU protection status such as PGI and PDO a critical part in maintaining their products' authenticity, and were more than happy to service a thorough paper trail to ensure the coveted EU symbols.
"The Club's members felt that Welsh farmers should be more willing to acknowledge the value of paperwork to ensure traceability in today's competitive markets. We felt that Welsh farming can more than hold its ground in terms of naturalness, history and quality, but we may not be as confident when it comes to communicating our strengths in the market place."
CHEESE
Very keen to communicate was Parmesan cheese producer, Roberto Peveri. He has been producing Ciao Latte Parmesan cheese from his 150 cow organic dairy herd since 2000. Adding value has increased returns, but with a wheel of Parmesan Cheese taking two years to mature, on top of the investment in machinery and storage facilities, a big start up bank loan was needed!
Roberto produces 2,000 cheeses a year, each weighing 38 to 40 kilos and worth up to 400 Euros per wheel, so he carries a stock of 1.6million euros worth of cheese. And in a region where dairy farms sell for 30,000 euros a hectare, Roberto's is an expensive 'way of life'.
"My father told me that if you don't want to work hard and if you want to earn a lot of money, then don't be a farmer", he says.
"But I love being a farmer and I love my animals. Animals don't speak but they do communicate and it's important to establish a relationship with them".
Accordingly he doesn't believe in huge dairy units, but prefers to add value on farm. He's adapted to an organic system to upgrade welfare and also to improve his own lifestyle. The innovations mean that in a country where young people are turning their backs on farming, his son is the Master Cheesemaker and a vital member of the team.
ART
The cheesemaking process is as much an art as a science, with temperature and turning critical, as well as the 'feel' for the right moment to move onto the next stage. But it's also rigorously regulated in order to protect the PDO status. This is a more tightly controlled and highly prized level than PGI, with the region absolutely defined and all inputs, chemicals and even plant species recorded.
The all important Parmazzione Reggiano brand is only burned on to the cheese wheel after inspectors are satisfied with an exhaustive paper trail and have tested each cheese in the traditional manner – by tapping it with a hammer. A big concern is that prices for the two million cheeses produced each year are falling and a large proportion of the producers have big bank loans to service.
The market for raw milk is improving though and one indication is the fact the Germans who used to export milk to Italy are now paying 55 euro cents a litre for it on the spot market. They then sell it on to the Far East.
Roberto is generally happy with this progress and with his business. The major source of discontent is with the politics of his country and he's keen to point out that farming needs committed Europeans.
"I believe in Europe because in Italy the system is a mess", he says. "But agriculture has to be supported. It's not just about the food, it's about the countryside, the environment".
OLIVES
Also happy with his lot in life is one of the world's leading producers of olive oil, Egidio Ramanzini, whose home and olive grove commands spellbinding views of Lake Garda. He, like so many farmers, is sitting on a patch of real estate that is worth an eye watering sum but which yields a very small return in terms of income.
The olive grove has been in Egidio's family for generations. It runs to 30 hectares and some of the 14,000 trees are up to 500 years old. More modern varieties are just a few years old.
The family, which provides all the labour, is hugely enthusiastic about producing the very best and in marketing it to squeeze every drop of profit not just from the olives which are processed and bottled on site but also from evoking the myth and magic of their environment. This involves shrewdly deploying scientific advice where Egidio feels it's appropriate and combining it with his own instinctive knowledge.
He also has to complete at least 26 registration forms each year showing the exact tree, its location and complete history. The land is registered as being within a certain geographical area, and is divided into small parcels, growing trees appropriate to the region, and the use of chemicals has to be logged. The process is a time consuming but necessary part of achieving the coveted PDO status and a premium price.
"Italy is the world champion at paperwork", he shrugs. "I make the oil and leave the women to fill in the forms".
PARMA HAM
Parma Ham production is carried out in a defined area with a similar pride and attention to detail. And again the process is checked at every stage, with a phenomenal paper trail and regular testing of the hams with a special needle, traditionally made of horse bone.
The production unit, Salumificio La Perla owned by Carlo Lanfranchil, visited by the Future Farmers of Wales carried a stock of five million euros worth of ham. Three or four per cent of the production is rejected if the salt isn't deemed to have penetrated right through the ham.
The problems again have a familiar ring. There is the need to export more because the Italian market is saturated and a feeling that if some of the older factories were closed then modern units would thrive.
The pig farm supplying the unit, Allevamento La Badia run by Signor Cervi, was facing severe problems and there was an air of depression. The cost of producing pigs at 160 kilos liveweight with the traditional much longer ham amounts to 1.40 euros a kilo, but the return on those sold to the abattoir is only 1.175 euros a kilo. The ham alone commands a premium, the rest of the pig has to be sold on the open market in increasingly difficult conditions.
It's a situation which has been getting worse over the autumn months, as cereal prices have doubled and which is of serious concern to the farmers. Other factors include the high value of the euro against the dollar which is curbing exports and the loss of Chinese and Japanese markets to the Danish.
They are calling for a campaign to tell the consumer that they must be prepared to pay more for both Parma Ham and Italian produced pork and other products. Production also needs to be limited.
The tour of the Po Valley also included visits to a vineyard, a farm producing the indigenous Bergamo breed for its own restaurant, a co-operative of ten farmers with 450 dairy cows and a farm shop and, naturally, some window shopping in Milan.
It was organised by Hybu Cig Cymru's man in Italy. Jeff Martin's brief is to promote Welsh Lamb in Italy. It's a frustrating business. Years of hard work boosting the Italian consumption of Welsh lamb from just 1.5 kilograms per head and getting it into 600 outlets as a branded product were on hold at the time of the visit because of the EU ban on UK exports as a result of the foot and mouth outbreak.
Jeff says he's ready and waiting to get Welsh lamb back into Italian stores – and he's confident that his customers are looking forward to getting the go ahead.

Welsh Countryside at Risk


NFUS Tells Lords of Long-Term CAP Vision


Paying Farmers to Protect the Environment?