Jacobs Boost Skipton Rare and Native Breeds Fixture
17/10/07
The twice-rescheduled annual Rare & Native Breeds Stockbreeder Auctions at Skipton Auction Mart finally went ahead on Sunday. (Oct 14)
Skipton Jacobs champion Sid Moore, right, and runner-up Clive Richardson, are pictured with their charges, joined by show organiser Gavin Haworth, left, and judge Mark Walekin, from Aberystwyth.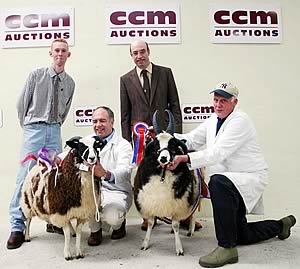 It was well worth the wait, as the popular show and sale of rare, minority and traditional breeds, staged in association with the Dales Support Group of the Rare Breeds Survival Trust, also incorporated a new pedigree fixture on behalf of the Northern Region of the Jacob Sheep Breeders Society.

Native breeds champion was an Oxford Down shearling ram from Scottish breeder Pat Delday, of Monkshill Croft, Fyvie, Aberdeenshire, who was making a debut appearance at Skipton. The title winner sold locally for the day's top price of 210 guineas to Tom Boothman & Son, of Linton.

Reserve champion was a five-year-old Herdwick ewe from Cumbrian exhibitors IK&AM Grisedale, of Green Mount Farm, Milton, Crooklands, Milnthorpe. The family keeps some 50 pure-bred Herdwicks.

Jacobs were making their debut at Skipton, with the Northern Association's 32nd annual fixture for breeding sheep having been transferred from York. Organiser Gavin Haworth, of Skipton said: "An excellent entry of pedigree, unregistered and store Jacobs went through the ring. Overall, the fixture went very well considering the current climate in the industry."

The male and overall show champion was a home-bred ram lamb from Sid Moore's Willmors flock at Newton-le-Willows, Bedale. The victor, Willmors Gambler, sold for the show-topping price of 200 guineas to SouthYorkshire buyer JE Pears, of Penistone.

The female and reserve show champion was a home-bred ewe lamb from Clive Richardson's Border flock in Ulverston, Cumbria. By a ram from the Dorset-based Knowlton flock, the runner-up was another Tom Boothman & Son purchase at 115 guineas.

Trade got off to a slow start in the ewes class, with the top price reaching 90gns, again from the Border flock. The ewe will now head south to the Warwickshire home of association secretary Louise Smith.

An excellent show of shearling ewes saw judge Mark Wakelin, of Aberystwyth, award Sid Moore a one-two in the class, the first prize going on to sell for 100gns. Top price in the class went to the Border flock with a bid of 150gns from the association's field officer Jean Blacknell, of Loynton, Stafford.

A good turn out in the ewe lamb class saw the excellent day continue for the Border and Willmors flocks with first and second prizes respectively.

Top price Jacob senior ram was Sid Moore's Willmors Falcon, sired by a Helen Baillie tup, Hyndshaw Darcy. He sold for 180gns to DM Slinger, of Burscough, Lancs. A ram lamb from Mrs Blacknell also sold well at 180gns to Sid Moore.

A small store lamb entry peaked at £29.40 for a pen of Jacob ram lambs from Sid Moore, a fair reflection on the store lamb trade at the present time.

Also on the menu on Sunday were the Craven Feather Auctions of poultry and wildfowl.

Dales Victory at Skipton Masham Wethers Show


Relief & Resignation at NSA Wales and Borders Ram Sale


Builth Wells Ram Sale Will Go Ahead


Record price for day of strong trading at Builth NSA Ram Sale