Relief & Resignation at NSA Wales and Borders Ram Sale
15/10/07
It was a day of mixed emotions at the NSA Wales and Borders Ram Sale, held at the Royal Welsh Showground.
Royal Welsh Showground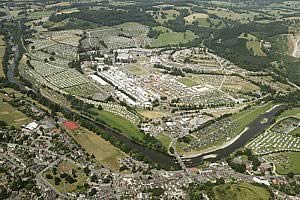 There was a general sense of relief on the part of vendors that they had finally been able to get their tups to the sale, but resignation that prices could only be well below anything they might have expected earlier in the season.
A morale boost came in the form of a visit by Welsh Assembly Government Rural Affairs Minister, Elin Jones. A farmer's daughter from Lampeter, she took a keen and informed interest and, ably fielding questions from anxious farmers, clearly demonstrated that she was 'onside'
A top price of three thousand one hundred guineas was achieved as three thousand shearlings and older rams went under the hammer at the sale, postponed from 24 September and hastily rearranged in the Society's permanent buildings. It went to a shearling ram Texel bred and sold by Hywel and Andrea Thomas of Garreglwyd, Trap, near Llandeilo.
Hywel is the Genus technician who bred the champion Texel at last year's early sale and who has made a name for himself in Texel circles over the last few years. His ram went to a syndicate led by Bill Quick and family of Loosebeare Manor, Zeal Monochoram, Crediton, Devon.
A Badger Face Welsh Mountain ewe lamb bred by Lampeter based Tim Evans who keeps 20 ewes was sold for 1200 guineas to Mr and Mrs Langford, Tattenhall. A Charollais bred by T H Roberts of Bach-ym-Byd, Bachrhewl, Ruthin, Clwyd, was sold for 1020 guineas to Messrs Wales, Thackwood Farm,Raughton Head, Carlisle.
Seventy six per cent of the rams were sold and the average price was £213.21. The total value of stock sold was more than £520,000.
NSA Wales and Border Ram Sale Chairman George Hughes said: "I'm quite impressed with the number of sheep sold. It compares very favourably with last year.
"I'm pleased with the number sold and that the average prices are above what might have been expected under the circumstances. And it was great that so many people appreciated that we had put the sale on at all after having to cancel it in September".
Rural Affairs Minister Elin Jones took note of the concerns of worried flockmasters as she toured the sheep lines. She told organisers she was glad they had gone ahead with the sale, even though it had been difficult in terms of planning.
"I know this is a difficult time for the industry", she added. "It's important that trading continues and hopefully in time we will see prices resurrected in markets – especially as from Wednesday, if all things stay the same, foot and mouth restrictions will be lifted and there will be more opportunities for farmers to organise their trading.
"This is clearly a sale of high quality, respected by sellers and buyers and an important event in the Welsh agricultural calendar".
The Royal Welsh Chaplain, Archdeacon Elwyn John, said prayers and gave a Blessing as the sale got underway. A farmer's son from Penderyn, he said it was very important to identify with the farming industry 'at this very difficult time'.
"It's important to show that the Church wants to go where people are and not wait for them to come to us", he added.

Builth Wells Ram Sale Will Go Ahead


Record price for day of strong trading at Builth NSA Ram Sale


Haddo Neptune Flys High at Carlisle Texel Sheep Sale


Early Maturing Hampshire Downs Maximise Returns