New John Deere 6030 Series Tractors Broaden Customer Appeal
19/10/07
John Deere's new mid-specification 6030 Series tractors are designed for wider appeal to a bigger range of customers, particularly mixed and livestock farmers looking for reliability, performance, higher levels of comfort and simple operation as standard.
John Deere 6330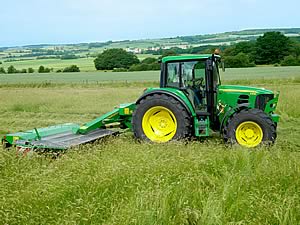 Available for 2008, this new eight model range replaces the previous 6020 SE Series, and will complement the 6030 Premium models that were introduced in autumn 2006. The previous 6020SE model has not been continued, but two new models have been added at the top of the range to provide extra power options.
The full line-up is as follows:
Model

Rated power
(97/68 EC)

Max power
(97/68 EC)

Engine

6130

83hp

87hp

4-cyl, 4.5-litre PowerTech Plus

6230

95hp

100hp

4-cyl, 4.5-litre PowerTech Plus

6330

105hp

110hp

4-cyl, 4.5-litre PowerTech Plus

6430

115hp

121hp

4-cyl, 4.5-litre PowerTech Plus

6530

120hp

126hp

6-cyl, 6.8-litre PowerTech Plus

6630

130hp

137hp

6-cyl, 6.8-litre PowerTech Plus

6830

140hp

147hp

6-cyl, 6.8-litre PowerTech Plus

6930

155hp

163hp

6-cyl, 6.8-litre PowerTech Plus
All models feature a Tier 3 turbocharged engine with the same high pressure common rail fuel injection system as on the Premium machines, but in a simpler overall package without the variable geometry turbocharger, exhaust gas recirculation and Intelligent Power Management system. The engines deliver 20 per cent constant power and a five per cent power bulge when required.
There is now a wider choice of transmissions, depending on model, including Power Reverser 16/16 (30 and 40kph), PowrQuad Plus 16/16 (30 and 40kph), and PowrQuad Plus 20/20 and 24/24 (40kph only). All include a new electrically operated left-hand reverser that is incorporated into the new tilting and telescoping dash unit.
A number of changes have been made to the cab, compared to the previous SE range, to improve operator comfort. Noise levels have been reduced to 71dB(A), rear visibility down to the pick-up hitch has been improved, and cruise control is standard. Other improvements include the relocation of the heater from the cab roof to underneath the seat, which greatly improves visibility when using a front loader.
Additional standard features include a remote pto control, large capacity fuel tanks up to 250 litres (325 litres optional) on the new 6830 and 6930 models, and increased lift capacity options ranging from 4 to 6 tonnes. An optional factory fit vandal protection kit is available, which includes a lockable bonnet, fuel cap and transmission oil cap, and both Parallel Tracking and AutoTrac Universal steering systems are available as field fit options if required.
Prices of the new John Deere 6030 Series tractors, which are available from November 2007, range from £34,309 to £54,334.
John Deere New Horizon Tour
The new range of mid-specification tractors from John Deere will be seen in the UK and Ireland for the first time on the upcoming John Deere New Horizon Tour, which starts in Scotland in November and then moves to Ireland in December before returning to England in January. This roadshow event will also feature the new 7750i self-propelled forager and T560 combine, which were launched earlier this year, plus the latest John Deere balers and trailed sprayers. The full itinerary is as follows;

Scotland
Lanark Market, Tuesday November 20, 2pm to 10pm & Wednesday November 21, 10am to 4pm
Thainstone Market, Wednesday November 28, 2pm to 10pm & Thursday November 29, 10am to 4pm

Northern Ireland
Ecclesville Equestrian Centre, Fintona, Tuesday December 4, 12 noon to 10pm

Republic of Ireland
National Show Centre, Dublin, Thursday December 6, 12 noon to 10pm
Kilkenny Market, Tuesday December 11, 12 noon to 10pm
Green Glens Arena, Mill Street, Cork, Thursday December 13, 12 noon to 10pm

England (2008)
LAMMA Show, Newark, Wednesday January 16, 9am to 5pm & Thursday January 17, 9am to 4.30pm
Royal Welsh Showground, Tuesday January 22, 2pm to 10pm & Wednesday January 23, 10am to 4pm
The Dairy Show, Bath & West Showground, Wednesday January 30, 8.30am to 5pm

Fendt Tractor Runs on Rapeseed Oil


New McCormick Tractor for Hadlow College


New Compact Tractors for Landini Line-Up