New Compact Tractors for Landini Line-Up
01/10/07
Landini's growing network of retail sales and service dealers have a new range of power-efficient compact tractors capable of handling a wide range of field and yard operations for dairy, beef and sheep farmers, horticultural units and commercial fruit and vegetable growers.
Landini 4140H comes with a 41hp Mitsubishi engine and triple-range hydrostatic drive with a simple two-pedal arrangement controlling forward and reverse speeds.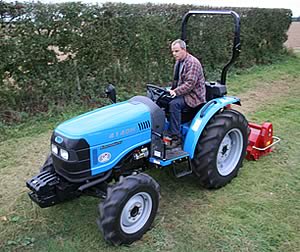 They also have the performance to work as the main power unit on smallholdings, in livery stables and for tackling groundcare and general maintenance work on estates and large domestic properties.
"These tractors, which replace our Mistral 'America' hydrostatic compacts, have a tough build and specification to tackle serious work," points out Adrian Winnett, Landini UK sales manager. "Together with the 35-54hp Mistral mechanical drive and 59-99hp Rex heavy-duty compacts, we can meet all needs when it comes to small tractors."
The Landini Compact 40 Series will initially comprise four variants – a 28hp machine with a choice of mechanical or hydrostatic transmissions and a larger hydrostatic drive version with 41hp and 47hp engine outputs.
All are powered by Mitsubishi diesel engines tuned to give plenty of power with low-impact exhaust emissions and good fuel economy.
With 28hp generated by its 1.5-litre engine, the Landini 2840 is the smallest model in the range. It comes in two versions – with an all-mechanical shuttle gearbox giving 12 speeds in forward and reverse or with hydrostatic drive.
The bigger Landini 4140H and 4740H have a wheelbase increased from 1.66m to 1.75m to maintain stability with the heavier and more power-demanding implements they can handle. The 4140H has a 2.3-litre Mitsubishi engine developing 41hp, while the 4740H's 2.5-litre version develops 47hp.
Both have hydrostatic drive for easy driving characteristics using a simple two-pedal arrangement for forward and reverse and a three-range gearbox for precise ultra-slow, mid-range and transport speed control.
"Four-wheel drive using a strong cast front axle and lockable rear axle differential gives all the new machines excellent traction," emphasises Landini UK technical specialist Tony Burgess. "The 55-degree steering angle, meanwhile, ensures agile manoeuvrability in and around buildings, poly tunnels and other tight working situations."
A wide range of implements can be handled by the single-speed mid- and rear power take-off and rear implement linkage of the tractors – lift capacity of the Landini 2840 and 2840H is 1188kg; on the two larger models it is 1250kg.
The tractors are now available through Landini's retail dealers, who provide local servicing and reliable parts supply throughout England, Scotland and Wales, backed by a generous two-year warranty.
Landini Compact 40 Series
| | | | | |
| --- | --- | --- | --- | --- |
| Model | 2840 | 2840H | 4140H | 4740H |
| Engine | 1.5-litre | 1.5-litre | 2.3-litre | 2.4-litre |
| Power | 28hp | 28hp | 41hp | 47hp |
| Drive | 12x12 gearbox | 3-range hydrostatic | 3-range hydrostatic | 3-range hydrostatic |
| Wheelbase | 1660mm | 1660mm | 1758mm | 1758mm |
| Rear lift | 1188kg | 1188kg | 1250kg | 1250kg |
| PTO | 540rpm mid and rear | 540rpm mid and rear | 540rpm mid and rear | 540rpm mid and rear |
| Weight | 1200kg | 1200kg | 1625kg | 1625kg |
| Price (with traction tyres) | £10,950 | £11,900 | £14,400 | £14,950 |

New Landini Tractor Dealers in Wales


New Holland sponsors the 2007 Biofuels Conference


More Power for Valpadana 6500 Series Four-Wheel Drive Tractors