New Ritchey Hooftreat Plus to Alleviate Cattle Foot Problems
10/09/07
More than 70% of UK dairy herds are estimated to suffer from lameness, with digital dermatitis and secondary infections in particular costing the industry hundreds of thousands of pounds annually through loss of yield and fertility, as well as a reduction in animal values.
Hooftreat Plus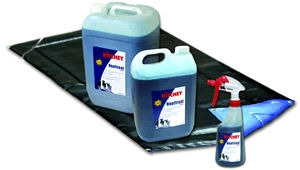 However a new product from North Yorkshire-based company, Ritchey claims to offer a practical solution for helping to alleviate lameness symptoms.
Hooftreat Plus can be used in conjunction with a footbath or hoofmat, or as a topical application, says Ritchey product development manager, Geoff Banks. The broad-spectrum nature of the biocide helps to control bacteria, fungi and yeast. An active foaming agent increases its ability to penetrate the affected area, and a dye has been added to aid visibility.
"Cattle foot problems can be very hard to treat, especially when the herd is inside during the winter. That is why we have focused our efforts on coming up with a really effective solution," says Mr Banks.
"We are not claiming that Hooftreat Plus will completely eliminate foot disease, but feedback from the dairy farmers who have trialled it suggests that it is the best product currently available on the market. It is particularly useful for relieving the symptoms of digital dermatitis."
Mr Banks estimates that using Hooftreat Plus will cost a producer an average £10/cow over the winter months, when the herd is most susceptible. This figure compares favourably with government statistics, which show an on-farm cost of £30/cow for digital dermatitis alone.
Hooftreat Plus has been developed with the welfare of the cow in mind, and is designed to be user-friendly, adds Mr Banks.
"In my opinion, formalin-based solutions are noxious to use. They are also thought to contain carcinogenic properties," he points out. "Copper sulphate – which used to be a favourite remedy - is no longer on the approved list for use in agriculture, due to its toxic nature and concerns over entry into the food chain.
"Zinc sulphate-based treatments can make a difference, but animals may need to remain in the footbath for at least 10 minutes, which is often impractical. Antibiotics, while effective, can work out very expensive and time consuming."
Hoof treat Plus comes in 5 and 25 litre containers, with a 600ml spray for topical application. The recommended dilution rate is 30:1 for use in conjunction with a PVC-encased foam hoofmat or standard footbath. The topical spray can be applied up to twice daily, for two to three consecutive days.

Schering-Plough Extends Nuflor Antibiotic Range


Tackle Sheep Scab with Well-Planned Autumn Approach


Wet Early Summer Fuels Fly Problem