Schering-Plough Extends Nuflor Antibiotic Range
10/09/07
UK pig units with acute or chronic respiratory disease have a powerful new tool at their disposal as Schering-Plough build on the success of their injectable antibiotic Nuflor Swine and launch Nuflor Drinking Water Concentrate (Nuflor DWC) for pig producers.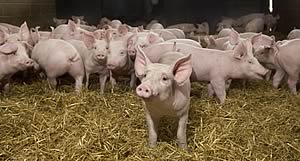 Florfenicol, the active ingredient of Nuflor is a unique class of antibiotic which is highly effective against most gram positive and gram negative bacteria. Schering-Plough confirms that the drinking water concentrate option is proven for both the treatment and prevention of major respiratory diseases such as those caused by Actinobacillus pleuropneumoniae (APP) and Pasteurella multocida.

Schering-Plough views this introduction as an important tool for UK pig producers. Ross Kelly, BVMS, MRCVS, UK Pig Team Manager explains, "Nuflor carries significant advantages in the way in which it treats even severe respiratory disease, it provides very high bioavailability, is rapidly absorbed and is therefore able to deliver active kill levels to diseased tissue within an hour." Ross Kelly continues, "These respiratory diseases can rapidly kill pigs, so the increased scope given by Nuflor Injection and Nuflor DWC to rapidly treat infection and now to prevent infection effectively can halt the spread and result in a swift recovery. Combined with good management the negative impact on growth, feed conversion efficiency and overall cost of production can be greatly reduced."

The new drinking water concentrate option provides producers with the opportunity to treat and prevent disease in groups of pigs with the minimal amount of handling and associated stress. In-water medication has become an increasingly popular and effective method of treating growing pigs. Ross Kelly adds," We are also working with units that have not regularly used in-water medication before and advising them on using equipment such as Dosatron® so that treatment programmes can be established readily."

Note: Nuflor injectable and Nuflor Drinking Water Concentrate are prescription only medicines and are only available through a prescribing vet.

Tackle Sheep Scab with Well-Planned Autumn Approach


Lumbylaw Texel Flock Sells after 30 Years of Breeding


Wet Early Summer Fuels Fly Problem