Records Fall as Craven Dairy Auctions Resume
11/09/07
It was "showtime" again at Skipton Auction Mart on Monday (Sept 10) when 34 dairy cattle returned to the ring to signal the longed for resumption of normal trading in the wake of foot and mouth.
The Craven Dairy Auction champion takes a bow in the Skipton ring with, from left, judge Angus Dean, exhibitors Robert and Raymond Johnson, and Ian Lindsay, of BOCM Pauls.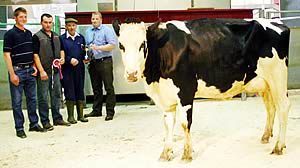 It proved a glorious homecoming for father-and-son farmers Raymond and Robert Johnson, of Summerfield Farm, Felliscliffe, Harrogate, who landed the Craven Dairy Auction championship for a record fifth time.

The Johnsons also set a new record price in modern times when their newly-calven pedigree Holstein Friesian heifer, giving seven gallons, sold for £1,600 to HA Bradley & Son, of Booth House, Salterforth. The Bradleys also received a £60 cash prize from Farmers & Mercantile Insurance Brokers, of Boroughbridge.

Awarded the BOCM Pauls Dairy Cup, the title winner was described as outstanding by show judge Angus Dean, of Threshfield. He noted: "The champion really stood out, exhibiting a good top line, well attached fore and rear udder, and excellent teat placement."

Repeating their reserve championship success at the last Craven Dairy Auction in July were Malcolm and Robert Swires, of Haverah Park, Harrogate. Their Holstein Friesian second calver sold for £1,520, which again topped the previous record price, to A Bradley, of Pickering.

Trade was extremely buoyant throughout, with newly-calven heifers averaging £1,064. Craven Dairy Auctions are being held each Monday this month to catch up with the backlog caused by the movement standstill.

Pedigrees to Take Centre Stage at Skipton


Welcome Return for Working Sheepdogs to Skipton


Spot Catches Eye at Skipton Working Sheepdogs Sale