Pedigrees to Take Centre Stage at Skipton
11/09/07
Texel sheep enthusiasts are making final preparations for one of their annual highlights, the 26th Northern Area Texel Sheep Breeders Association two-day show and sale of pedigree rams and females at Skipton Auction Mart, on Thursday and Friday, September 20 & 21.
Peter Woof with last year's Skipton Texel supreme champion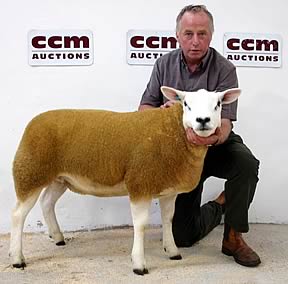 Association secretary Audrey Taylor, of Huddersfield, reports that a robust 567 entries will be turning out for the show, to be judged by association committee member and well-known Texel breeder Philip Hughes, of Angram, York.

A £500 cash prize will be awarded to the supreme champion and £150 to the reserve. The fixture is being sponsored by Mewies Solicitors and Blagden Electricals, both based in Skipton, along with Crossgates Bioenergetics, of Settle, and computer software company Newline.

Meanwhile, as the busy show season at Skipton continues in full swing following the welcome resumption of normal trading on Monday (Sept 10), the countdown is also on to another highly popular annual event, the rescheduled Skipton Native Stockbreeder Auctions, on Sunday, September 23.

Again being staged in conjunction with the Dales Support Group of the Rare Breeds Survival Trust, it allows both young and old an opportunity to see rare, minority and native breeds of cattle, sheep, pigs and goats gathered together under one roof.

The day also incorporates two pedigree shows and sales on behalf of the Hampshire Down Sheep Society and the North Region of the Jacob Sheep Society.

Jacobs will be making their first appearance at Skipton, with the annual fixture for breeding sheep having been transferred from York. Organiser Gavin Haworth, of Skipton says a healthy entry of 139 Jacobs should attract plenty of interest.

Welcome Return for Working Sheepdogs to Skipton


Spot Catches Eye at Skipton Working Sheepdogs Sale


Livestock Set to Return at Skipton