More Power for Valpadana 6500 Series Four-Wheel Drive Tractors
19/09/07
Imagine a low-slung tractor that hugs the ground, can work in orchards, polytunnels and buildings where there is limited height, yet has heaps of power and traction.
Valpadana 6575 four-wheel drive tractor from Landini UK is shown here in ISR-REV guise with axle steering, reverse drive, power shuttle and optional joystick control for the three-point linkage and implement hydraulics.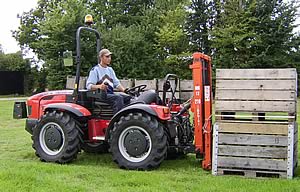 That pretty much sums up the Valpadana family of tractors, available from Landini and McCormick retail dealers, which are designed and built for a range of specialist applications in farming and commercial horticulture.
"These multi-function tractors already pack a lot of performance into a remarkably compact package but operators always want more power," notes Adrian Winnett, sales manager at Landini UK, Valpadana's distributor for the United Kingdom and Ireland. "The new 6575 model should satisfy that demand and drivers will also appreciate the new power shuttle systems we're introducing across the range."
With 66hp from its 2.2-litre four-cylinder diesel engine, the Valpadana 6575 becomes the most powerful and work-hungry model in the range. It joins the 6550 and 6560, which are powered by Yanmar four-cylinder diesels with 46hp and 54hp outputs.
The newcomer has bigger capacity hydraulics to match its greater performance potential and more powerful (1700kg) rear implement lift, which can be operated using an optional seat-mounted joystick.
All three Valpadana 6500 Series tractors are equipped with a gearbox giving the driver 16 gears both forwards and backwards, which is particularly useful on the ISR-REV version because its driver's seat, steering wheel and major controls are mounted on a turntable. This can be rotated to give the driver the most comfortable position and best possible view of the work he is doing, whichever direction the tractor is driven.
"When operating a heavy cultivator, the tractor would be driven normally with the engine leading the way," explains Adrian Winnett. "But when using a flail mower or a forklift, the tractor can be operated backwards – but with the driver facing the right way – to operate more efficiently and safely."
The ISR-REV high performance build also features equal-size wheels all round for maximum traction, selectable two- and four-wheel drive, hydraulically powered four-wheel disc brakes for safety on hills and when towing, and draft-control three-point linkage to make best use of soil-engaging implements.
It also comes with Valpadana's new Reverse Power Shuttle (RPS), which can be used to get the tractor moving or change direction without having to use the clutch pedal. List price of the Valpadana 6575 ISR-REV on traction tyres is £20,787.
The ARM version has an articulated chassis rather than a conventional steering axle. It can be used with slim wheels and tyres at a narrow track setting to reduce overall width to just 1m (3ft 3in), resulting in a powerful machine that can work in narrow-spaced fruit trees and vegetable crops.
The Valpadana 6575 ARM is priced at £19,393 on tractor-grip tyres.

New Valpadana compact tractor features ultimate versatility


Kuhn Farm Machinery at Tillage 2007


McCormick to Auction Final Doncaster-Built CX Tractor