McCormick to Auction Final Doncaster-Built CX Tractor
11/09/07
McCormick is taking the unprecedented step of auctioning one of its most historically-significant tractors.
The final McCormick CX to be assembled at the company's Doncaster plant - the range is now built in Italy - features prominent Union Jack bonnet and roof decals.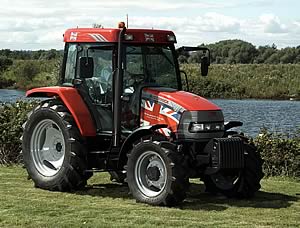 The specially-prepared McCormick CX105 XtraShift is turned out in McCormick's new red, silver and grey livery with special Union Jack flag decals celebrating its status as the last CX to be built at the company's Doncaster assembly plant in South Yorkshire.
The popular CX range is now being produced at the Italian factory of McCormick's parent, the ARGO Group, and by the end of the year the remaining models in McCormick's line-up will also be built there.
"This isn't the end of the CX; it's our best-selling tractor," emphasises Jeremy Lamb, McCormick UK sales director. "It will continue to be available and to satisfy owners with an appealing blend of performance and compact size, with a generous cab that provides excellent driver accommodation for a tractor in this class.
"However, we wanted to mark this latest chapter in the Doncaster plant's story in a special way because of the great respect people have for its role over the past 60 years," he adds. "How better to celebrate than give someone the chance to own the final Doncaster-built CX tractor, while supporting a very deserving charitable cause?"
The highest postal or online bid will secure the tractor, with all proceeds above the £21,000 reserve donated to the Queen Elizabeth's Foundation. This organisation encourages and enables adults with disabilities to improve their life skills and increase their independence through training and specialised support.
Script along the Union Jack side panels declare this particular
tractor's status to celebrate McCormick's Doncaster plant heritage.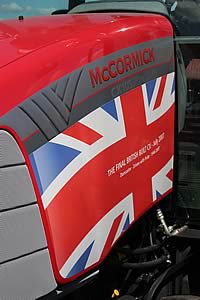 Bids can be placed through McCormick's www.mccormick-intl.com website or by using the postal bidding form printed in the October and November 2007 editions of Classic Tractor magazine, available now at news agents or on subscription. The deadline for all bids is 6th November.
Rory Day, editor of Classic Tractor, emphasises the significance of the tractor: "The McCormick CX represents an important part of our farm mechanisation heritage and the Doncaster plant story. It's unprecedented for a manufacturer to sell such a historically-significant tractor and a rare opportunity for an enthusiast to own one."
The CX105 is McCormick's best-selling individual model in Britain and the example that completed the Doncaster production run is built to the top Deluxe XtraShift specification, complete with air conditioning.
It has a four-cylinder Perkins 1100-series engine developing 102hp and is equipped with the XtraShift transmission, which features a smooth-shifting power shuttle, three-speed powershift and 24 speeds in forward and reverse.
The tractor's prominent Union Jack bonnet and roof decals carry the legend:
The final British-built CX – July 2007
Doncaster – Driven with Pride – 1946-2007

Keen Interest in New McCormick XTX165 Tractor at Cereals 2007


Spray Nozzle for Farmers Helps Skiers Defy Friction


Red Diesel Victory for Farmers