Jersey Herd Margins Compete with Black and White
10/09/07
Herd margins for their Jerseys more than match black and whites say Lancashire specialist dairy farmers Ian and Sally Macalpine.
Ian and Sally Macalpine and their Jersey cows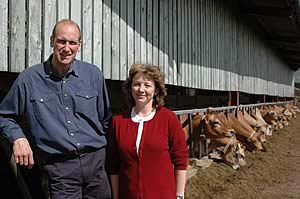 The all-round performance of the 200-cow pedigree Ribblesdale herd run on 165 all-grass acres at Laneside Farm, Waddington, near Clitheroe, has earned the couple a place in the final of the 2007 NMR/RABDF Gold Cup competition for the third year.
Seeing first hand the capabilities of Jersey herds in Denmark convinced Ian Macalpine that the small, efficient cows would not only give the production off a limited acreage but the milk quality would also offer the flexibility in terms of milk sales.
Determined not to continue to sell milk into a commodity market, Ian Macalpine believes that UK producers would be better off if they could sell into a branded market, something they may be able to influence now that there is more of a shift in power to producers.
Five years since starting their Jersey herd, production has exceeded the Macalpine's expectations with NMR figures running at a rolling average of 6,200kg a cow at 6% butterfat and 4% protein, with a bulk tank average of 6.5% fat.
"I have done calculations to compare the two breeds and no matter whether I base it on stocking rates, dry matter intakes, margins or production of solids, black and whites would need to be producing 12,000 to 13,000 litres of milk to compare," says Ian who employs two staff, herdsman Les Helliwell and apprentice Sam Wearden as well as occasional part-time staff.
"Jerseys are very efficient at producing milk solids out of dry matter. They can be up to 30% more efficient than a Holstein cow. We can keep 200 Jersey milkers where we could only have 150 black and whites."
Since the outset when a herd of Danish imported cows was purchased in the UK, milk has been supplied to J and E Dickinson's Longley Farm Dairy at Holmfirth, Huddersfield where the price is based on butterfat and protein content.
The Macalpines have worked with Mr Dickinson to produce milk to his requirements and this in turn they acknowledge has helped them to progress their herd.
To produce the quality milk requires getting the smaller cows' rumens to function properly on a smaller dry matter intake.
With independent feed consultant Graeme Surtees, who also runs a buying group, Ian travelled to Denmark to make a further study of Danish Jersey herds to help perfect his cows' diet.
"We decided the diet needed to be more rumen-friendly. We started including wet feeds such as brewers' grains or pressed pulp and we simplified the concentrate blend from around 15 ingredients to four or five.
"During the 12 months to July 2006, the new diet increased herd margins by 23% with no increase in cow numbers," said Ian.
Now Longley Farm is looking for more protein Ian is aiming to lift milk proteins higher by further improvements to the diet and higher inclusion of starch.
The current energy dense total mixed ration is based on grass silage, molasses, grain beet, concentrate and some fat and the diet is flat rate fed all the year round to the milking herd to maintain level production. No concentrate is fed in the parlour.
The farm's heavy clay land is not ideal for summer grazing and there is no guarantee that they will be able to make the best use of it. Springs can be late while autumns often provide a big flush of grass.
As a result, the system was set up to suit the farm as well as the cows. Newly calved cows are housed year-round – this equates to a third of the herd at any one time – with only 40 acres paddock grazed during the daytime from early June.
Two to three cuts of silage are made each year with 160 acres taken as first cut in mid May, a further 100 acres in early July for second cut and if a third cut, if possible, late August off 80 acres, rotating the crops which have a 24-hour wilt between four silage clamps.
"The foundations females for the Ribblesdale herd could not have been better," says Ian. Since then, replacements have been bred by Danish and American sires.
"We have selected American bulls, which tend to be bigger, to try to improve yields while being careful not to lose on butterfat and protein. They have put more capacity in the cows but we don't want to go down the route of chasing size and angularity," said Ian, who sees the herd's optimum production at around a 6,500 litre average.
All herd replacements are home bred and while the intention is to build herd numbers up to a maximum of 220. Surplus stock will be available for private sale filling a void in the market for quality Jersey heifers that are often required in batches as well as for an emerging export market, creating a bonus for the herd on top of milk sales.
Heifers leave the farm at six months old and are reared on contract during which time they are served, returning a month before calving at 24 months old.
As well as breeding for production, the Macalpines are also looking at type with a view to showing. The herd has been successful in the Lakes Jersey Club annual herds' competition as well as the county's NMR herd competition when in 2006 it was placed second in the county championship for the highest placed herd milked two times a day for all breeds.
Ian has found that the calving ease of the Jersey leads to better fertility and the Ribblesdale calving index is currently running at between 365 and 370 days. He believes in serving cows early from 50 days onwards which results in a few shorter lactations.
Cell counts are running at 165,000/ml however this could be attributable to the overall age of the herd, 30% of which is over fifth lactation. Herd health is monitored on monthly routine veterinary visits and good hygiene practice in the parlour, including pre-dipping is reflected in Bactoscan counts in the teens. Milk is tested after each collection which helps pick up any potential problems quickly.
While constraints imposed by the farm's acreage prevent any major conservation projects, the farm is in the Entry Level Stewardship scheme and the Macalpines comply with the requirements of a Nitrate Vulnerable Zone.
The NMR/RABDF Gold Cup is open to all milk recorded herds meeting the competition criteria of more than 70 cows/heifers in the milking herd, an annual somatic cell count average for the recording year ending 30 September 2006 of 200,000/ml or less, or less than 400,000/ml for organic herds, and a minimum PIN value specific to the breed – £5 for Holstein and £6 for Jerseys for example.
Finalists in the NMR/RABDF Gold Cup 2007 are being judged by Lyndon Edwards, dairy farmer and RABDF Chairman Lyndon Edwards, dairy farmer and NMR board member Trevor Lloyd and Dr Malcolm Crabtree of Leckford Estates.

Third Time Lucky as Lancashire Jersey Herd Strikes Gold
THE SIX NMR/RABDF GOLD CUP FINALISTS ARE:
Ian and Sally Macalpine, Lancashire
Peter Jack, Blandford Forum, Dorset
William Ley, Holsworthy, Devon
Tim Gue, Steyning, West Sussex
Nick Cobb, Dorchester, Dorset
Mark Heywood, Haresfield, Gloucestershire

Six Outstanding Dairy Farms Vie for Gold Cup 2007


Cheshire Dairy Farm Wins NMR / RABDF Gold Cup 2006


Traditional Breed Beef and Pork in Demand