Northern Expo Holstein Show Goes Ahead
29/09/07
As livestock movements are getting underway across the country the Northern Expo Show Committee are getting ready to take their show into it's quarter century with their "Silver Edition" 25th anniversary Holstein show on the evening of Friday 26th October. The show is open to all female animals registered with Holstein UK and there are classes to suit all ages from baby calves to senior cows.
Northern Expo 2006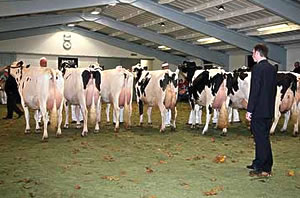 The Northern Expo Holstein Show in its 25th year is largely seen as one of the main events in the dairy calendar at Carlisle's Borderway Mart in what is now established as a national autumn show fixture and undoubtedly one of the best and most popular one day shows in the UK.
Northern Expo's beginnings came with the decision to hold a club show in 1982 by members of the North West Holstein Breeders Club, then a fledgling club.
The 1982 show immediately enjoyed popularity, attracting a creditable 74 head of cattle from 21 exhibitors that year.
Whilst early honours were dominated by the Parboldhall and Greengill prefixes, enthusiasm, quality and numbers continued to grow resulting in more than one re-location for the event. As you will see from our list of grand champions exhibitors such as TG Dent, Melling & Loftus, RJ & D Loftus and WW Garnett have been extremely successful and must be congratulated for taking the cream of the show on numerous occasions. The show would not be where it is today if it hadn't of been for the knowledge and enthusiasm of these breeders to name but a few. It is well worth a mention that Wilson Garnett is still an active committee member and ambassador for the show, while his wife Joan can be relied upon to assist with the secretary's point scoring on the evening. However in more recent times the dazzling show career of one amazing cow has been emphasised by the Northern Expo Show, namely "Holmland Storm Flo". Flo has won the show on three different occasions, bred by Tony Bell and shown in the expert hands of Francis, Ann and David Wright of Kendal.
Over the last decade and more the show has witnessed continued development, which always welcomes new faces to enter as exhibitors. The quality and professionalism of the event has rapidly developed under a progressive show committee.
Northern Expo in its present form was born in 1996, welcoming entries from beyond the original club's membership and attracting the very best Holsteins from as far apart as Doncaster, Aberdeen, Blackpool and the Scottish borders.

The 'man in the middle' at this year's event will be Hank Van Excel. Hank and his family, wife Carolyn, son Adam, and daughters Sarah and Jennifer farm in Lodi, California.
They milk 1400 Holstein and 240 Jerseys on two farms. The herd production for the Holstein is 23,040 3.6 1029 fat 3.0 840 pr. With some 250 cows or more they have over 33 Excellent and over 110 Very Good.
Some of their well known cattle are:
Four of a Kind Eland 7H6352.
Mr. Jed Approval 7H8419.
Lock Lee Knight Pam Ex93 National record holder for milk & Dam of Exels SWD Eagle.
Exels Anticipation - Res All American Bull Calf owned by Hokkaido A.I.
Life-O-Riley Persausion Shelly - Ex93 nominated 3 times All American.
Sierra Vista Silverado Nicolette VG89 2yr Res All American 2yr Old.
Stanlee Counselor Inka Ex94 nominated 3 times All American in milking form.
Applevue Tempo Maud 94 twice over 50,000 of milk.
Exels Enhancer Polly April - VG. 4 sons on A.I.; 2 in Japan.
Robwynn Iaurier Lai Ex94 twice nominated All American.
Beaumond Spendide Spirit Ex94 All American 4 yr - '03 & Reserve Grand Champion at International Holstein Show '03.
Van Exels have also been Premier Exhibitors at California Black & White Show six out of seven years. In addition, Hank has judged World Dairy Expo, Eastern National both Holstein and Jersey, Southern National, Eastern National, Spring Show, National Jersey Show, Louisville, as well as Australia and Canada, Royal Winter Fair in Toronto Canada, Swiss National Show, French Tours and has served on the All American panel for eight years.

As Northern Expo hosts 25 classes and special awards and a Grand Champion prize of £500 up for grabs the show committee can only hope that breeders can deal with the movement regulations and with bio-security being kept at it's highest level anticipates an impressive line of cattle to be forward from around thirty exhibitors.

Indeed the quality of cattle and popularity of the event have been such that Carrs Billington, The Farmers Guardian, Holstein UK and World Wide Sires UK Ltd are once again proud to be on board as the major show sponsors.

The evening kicks off with class one for calves to be born on or after 1st December 2006 – to be led by a handler aged under 16 years, class two for calves born between 1st August 2006 and 30th November 2006 and class three for Maiden heifers born between 1st April 2006 and 31st July 2006.

It is surely worth a mention that on introducing a calf section and an award for the champion calf some two years ago was an encouraging step in the right direction for the appeal of the younger Holstein enthusiasts, for this section of the show alone could attract up to forty entries. Following on after the calf championship is the in calf classes respectively for heifers in calf followed directly by the cow in calf class. Then as things start to warm up comes the turn of the in milk classes beginning with Class seven which is for in milk heifers (split between junior's and senior's). Next comes the Genetic Merit award, Junior Championship and Exhibitor Bred Junior Championship. Class eight sees the commencement of the cow in milk classes starting with Junior cow in milk (having calved twice), class nine, Intermediate cow in milk (having calved three times) followed by class ten, Senior cow in milk (having calved more than four times). Following these classes will be the Breeders Pair, Best Udder in show, Best Exhibitor Bred Animal and Best New Exhibitor (not to have shown at Northern Expo In the last five years).

Just before the grand finale the presentations and prizes will be awarded to the Premier Breeder (Breeder with most points in the show) and Premier Exhibitor (Exhibitor with most points in the show). Following these sought after awards will be the moment everyone is waiting for as all the 1st and 2nd prize class winners grace the ring once again to an electrifying atmosphere as the judge taps his Grand Champion, Reserve Champion and Honourable Mention of the 2007 "Silver Edition" Northern Expo Holstein Show.

Awards are then presented to the handlers of the Grand Champion and Reserve Grand Champion. Of particular interest surely to exhibitors is that this one day show awards prizes to tenth place with animals awarded the prestigious titles receiving £500 for the Grand Champion, £250 Reserve Champion £150 Honourable Mention and £150 to the Junior Champion.

The show is an evening event commencing at 6pm (with free entry to the show) in order to allow farmers and businesses to finish chores before attending along with having the added appeal to the young Holstein enthusiasts it is staged in the school half term. Refreshments will be available and a pay bar on site for the evening.

Entries are invited for this years show by contacting our secretary Jenni Wharton on 012228 792352/ 07752 060406 or by email at info@holstein-expo.co.uk.

2008 Semex Dairy Conference


New Semex UK Holstein Sires Launched


Big Win in Spain for Drointon Holsteins