Fashion Makes Its Debut at Countryside Live
24/08/07
"Country Cool" will be hitting the catwalk at this year's Countryside Live, with the first ever fashion show included in the event's line up.
Outfits designed by Gods Rock Climbing of Huddersfield whose work will be showcased at the event.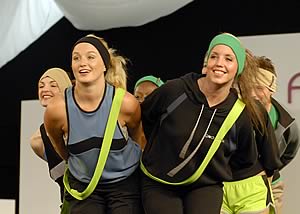 Stylish outdoor clothing including designer deerskin outfits, wacky wellies, colourful shawls and statement socks are just some of the ingredients of the fashion shows which will be held three times a day at Countryside Live.

Held at the Great Yorkshire Showground and organised by the Yorkshire Agricultural Society, Countryside Live takes place on Saturday 27 and Sunday 28 October and promises to be a hit with all the family, not just fashion enthusiasts. This will be the fifth year of the event which is a showcase for some of the country's finest cattle and sheep, and a great day out for everyone with an interest in the countryside.

Nigel Pulling, Chief Executive said: "Countryside Live has really come of age, and being 90% indoors, it's ideal, whatever the weather. On the programme there's everything from inspiring cookery demonstrations using local produce to jazz music to the Young Farmers' Tug of War to the dozens of stands – ideal for finding imaginative gifts that are a little bit different to those you find on the High Street and all under one roof! There's the chance to see some of Britain's best animals and talk to their owners, and of course we're delighted to have a new feature in the fashion shows."

One of the most innovative scenes in the catwalk shows will be that featuring the deerskin clothing presented by Holme Farmed Venison of Sherburn in Elmet. Farming entrepreneur Nigel Sampson thought of the idea after looking for a way of using the waste product, the leather, from their venison business. Another Yorkshire entrepreneur is Alison McHamish of Boroughbridge- based Ee'i-E'i-O with her collection of fun T and polo shirts. Lovely silk and wool shawls will be presented by The Shawl Stall of Skelton, York and in complete contrast, the Sock Company will feature wacky wellies and funky socks. Joules, the renowned outdoor clothing specialists, will also be presenting a range of stylish and practical outfits whilst Gods Rock Climbing will showcase innovative action wear – perfect for whether you are rock climbing or going to the pub! As with the Great Yorkshire Show, Bernadette Gledhill of the Louise Morton Model Agency of Huddersfield is co-ordinating the fashion shows.

Elsewhere visitors will find demonstrations of a range of country skills including thatching, cheese making and pottery. Youngsters will be rolling up their sleeves for a spot of bread making, whilst outside there's the Yorkshire Woodfair, traction engines and traditional carousels, the pigeon and poultry sections plus the Knaresborough Horticultural Society's Late Flower Show and on Sunday, the Young Farmers' Tug of War competition.

INFORMATION

Tickets cost: Advance Gate Price

Adults £6 £8
Concessions £5 ` £7
Children: FREE ADMISSION

Car parking is free and extensive and there is free admission for Yorkshire Agricultural Society members on presentation of their membership card.

There are also discounts for groups of 20 people or more.

The Great Yorkshire Showground is situated on the south side of Harrogate, with access off the A661.

Countryside Live 2007 - A Feast of Fun


SCA NuTec Amino Gold Lifts Milk Yields - Dairy Event 2007


Bio-Gas at Diversifarm - Dairy Event 2007