Lleyn Sheep Set to Soar to New Heights
06/07/07
Few breeds have made more of an impact on the sheep industry in recent years than the Lleyn and with producers aiming to further improve the breed's shape and conformation, the demand for this Welsh female sheep looks set to soar to new heights.
Lleyn Sheep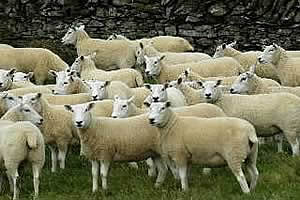 The white-bred sheep has always been renowned for its ease of management and prolificacy, however, a growing number of breeders are now beginning to realise the better end of the sheep can survive admirably further up the hill as well as on the lowland and produce a valuable finished lamb crop.
Derek and Cindy Steen run a flock of 1,000 ewes at Whitcastles Farm, Corrie, Lockerbie: "We've always produced R grade or better pure-bred Lleyn lambs. Lleyns will easily grow to 42kg off grass and still produce R grade carcases," said Derek.
The flock lambs in April and May and lambs are sold from September onwards at 42Kg live weight.
However, Derek, who is vice-chairman of the Lleyn Sheep Society, is keen to stress that while the Lleyn is very much a female breed, he has always looked to breed sheep with added shape and conformation.
The Steens are holding a farm walk on behalf of the Scottish and Borders Lleyn Breeders Club on August 19 when visitors can see the Ballylinney pedigree Lleyn flock, commercial Lleyn sheep and a variety of crosses as well as the large commercial suckler herd on the all grassland farm.
"The Lleyn has proved that she has the inherent milkiness, prolificacy and ease of management combined with a high health status."
"The Lleyn enables me to keep a closed flock which reduces the cost of having to buy in females and makes for improved disease control" Lleyn ewes will easily rear two lambs, which are quick onto there feet and hardy the ewes are easy to feed.
"We saved 30-40pc of our feed bill by switching to Lleyns and we stocked them tighter. We could easily run 7 Lleyn ewes and 14 lambs to the acre.
"We are great Lleyn fans — I doubt if any other breed or sheep will be more profitable than the Lleyn," added Derek.
The event, which starts at 1pm includes stock judging, a barbeque and charity raffle.
The society holds its 11th annual show and sale of registered Lleyn sheep at Borderway Mart on September 27 which has attracted record entries

Lleyn Sheep Society Introduce New Registration Tag


Catons Clinch Skipton Prime Lambs Championship


Wet Early Summer Fuels Fly Problem