17/07/07

Castlewellan Show on Saturday 14th July 2007 saw the Northern Ireland Limousin Cattle Club and the Irish Limousin Society join together to stage a unique event – a Show of Young Limousin Heifers and Bulls made up of animals pre-qualified and drawn from both the North and South of the island of Ireland.

John Moroney (right) Irish Limousin President,
presents the Irish Society Shield for the area
gaining most points in the Derbies to Bryan McElroy, Chairman, N I Club, the winners.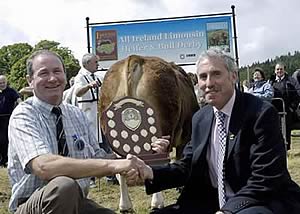 A keenly-fought competition in the judging ring resulted in honours even as the North took home the bull championship with the South gaining the heifer title whilst the Challenge Shield for the overall highest points gained went to the NI Cattle Club.

A total of thirteen heifers and twelve bulls had pre-qualified and, in spite of some fairly stringent rules imposed by the animal health authorities, the parades in front of Scottish Judge Mr Archie McGregor, Allanfauld, Kilsyth, Glasgow were sensational and very much appreciated by the huge crowd, who clamoured to admire some of the best beef cattle to be found anywhere in Ireland, or further afield, for that matter.

Demonstrating the Pride of Erin, there were Limousin cattle from Carnlough to Cork, from Meath to Maghera, from Clare to Cullyhanna, from Tyrone to Toomebridge and from Antrim to Ardnacrushna with many miles travelled to bring them all to Castlewellan. Heifer Champion was the November 2005 born Milbrook Ainsi II, a Mas du Clo daughter and out of Milbrook Monique, exhibited by William Smith, Millbrook, Oldcastle, Co Meath, Republic of Ireland. The Champion Bull title went to James McKay of 88 Kilrea RD, Upperlands, Maghera, Co Londonderry, Northern Ireland with the March 2006 born Ampertaine Bravo, sired by Sympa and out of the dam Ultra.

Hailed as a tremendous promotional event for Limousin cattle, now recognised as the numerically dominant beef breed, the Derby further underlined the spirit of co-operation between the British and Irish Societies and emphasised the qualities inherent in the breed in respects of all aspects of beef production. John Gordon, President of the NI Limousin Cattle Club summed it up by saying: "This puts down a marker that says Limousin is the top breed and we're willing to demonstrate it anywhere."

Heifer Results:
First & Heifer Champion: William Smith. Millbrook Ainsi 2, Sire: Mas du Clo. Dam: Millbrook Monique
Second: Pat Phelan. Curraghree Amazing, Sire: Grahams Samson. Dam:Curraghree Mercedes
Third: David Kenwell: Kendrom Betty, Sire: Jockey. Dam: Kendrom Utha
Fourth: R S Clyde: Clydevalley Apricot, Sire: Ronick Gains. Dam:Clydevalley Nightingale
Fifth: Christopher Murray: Annadale Beauty, Sire: Nenuphar. Dam: Bernish Serena
Sixth: David Kenwell: Kendrom Beauty, Sire: Broadmeadows Cannon. Dam: Ronick Unicer

Bull Results:
First & Bull Champion: James McKay: Ampertaine Bravo, Sire: Sympa. Dam: Ultra
Second: Mr & Mrs J Callion: Ashhallow Bombshell, Sire: Rocky. Dam: Lyvennet Paris
Third: Miss J Gilliland. Ballyrobin Bestmate, Sire: Nectar. Dam: Ballyrobin Savonnah
Fourth: J . Adams: Fedneyhouse Brandy, Sire: Ulm. Dam: Lumbylaw Nellie
Fifth: Francis McAuley: Carmorn Bush, Sire: Grahams Unbeatable. Dam: Carmorn Ulrika
Sixth: Brendan Clancy: Moloskey Bernard, Sire: Moloskey Showman. Dam: Ardlea Maura

Irish Limousin Society Challenge Shield for Overall Highest Points Gained:
Winner NI Club: 30 Points; Irish Society: 12 points.

Farm Health Planning at the Dairy Event 2007


Great Yorkshire Show Beats the Odds to Record Another Great Yea


Widespread Interest in Borderway's First Winter Agri-Event