Widespread Interest in Borderway's First Winter Agri-Event
04/07/07
Plans for Cumbria and the north west's first big agri-event this November at Borderway, Carlisle are well under way and the all-industry show is attracting widespread interest from livestock and trade stand exhibitors as well as sponsors.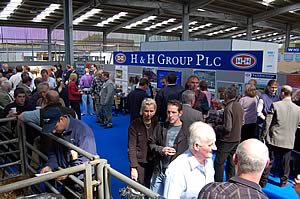 The event on Friday November 2, which is being organised by auction company Harrison & Hetherington, already has the backing of main-line sponsors Norbrook Laboratories and Carrs Billington.

Providing an exciting shop window for farmers in the region, it will feature a national suckled calf and primestock show, a prime sheep show as well as other livestock attractions. There will be machinery, demonstrations and competitions, including those for young farmers as well as a food fair for local producers.

Facilities at Borderway and its easy accessibility from junction 43 of the M6 motorway make it an ideal venue for such an event.

Highlight of the competitions is the suckled calf and primestock show which has a prize fund of £5,000.

A special award made by H&H of £500 over and above the £500 championship prize awaits the overall champion if the exhibitor has bought the animal through the ring at an H&H centre or if it is home-bred and subsequently sold through an H&H centre.

The reserve champion wins a cash prize of £250. Classes are for continental steers up to 400kg, 401-500kg and over 501kg; continental heifers up to 375kg, 376-475kg and over 476kg as well as for native steers and heifers of any weight. Classes will be judged by Great Orton farmer and butcher Jim Mulholland.

The prime lamb section, judged by Paul Barker of Woodhead Bros, Colne, has classes for Suffolk, Texel, Beltex, any other continental breed, Mule, Swaledale, Cheviot and Blackface sheep in two weight categories – up to 45kg and over 45kg. The champion will receive a prize of £100 with the reserve £50.

An added feature of the day is a calf show staged by the Solway Aberdeen Angus Club.

"The region is a big livestock producing area and we felt there was a gap in the calendar for a special event of this kind," said Harrison & Hetherington operations director David Pritchard.

H&H's farmstock team has wide experience of conducting events at the mart, now traditionally staging numerous sales and shows on one day to appeal to a wide range of prospective customers – such as major pedigree beef and dairy events.

"The centre is a focal point for livestock producers in the region and this was proved by the successful National Beef Association's Beef Expo event last June which was attended by around 5,000 people," he added.

Anyone interested in supporting the event or requiring further information can contact event co-ordinator David Pritchard on 07778 623748; for livestock enquiries, Robert Addison on 07714 215627; machinery enquiries, Andrew Templeton 07778 808464; and sponsorship and trade stands, Heather Pritchard 07714 761311.

Royal Show Abandoned due to Rain


All Set for the Great Yorkshire Show


UK Livestock Does Grand Tour of Europe