The Crop Packaging Association has a winner!
17/07/07
One very happy contractor, were the words that described Martin Brookes when he received the telephone call from UAT's national sales manager Tim Carr telling him he was the lucky winner of a full pallet of TamaNet Edge to Edge Pro-Tec 3600 netwrap, as the successful entrant in the Crop Packaging Association's annual free prize draw.
Martin Brooks (left) receiving his prize from UAT's Tim Carr.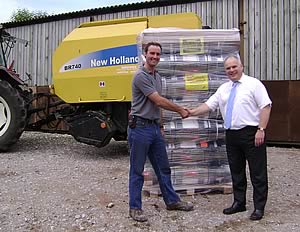 Each year, people from the industry can enter the annual prize draw, simply by visiting the website (www.croppackaging.com), or filling in the entry form in industry magazines or at shows and open days.
This year, Martin Brooks, owner of Brooks Agricultural Services, a landscaping and agricultural contracting business based in Lancashire, was the lucky recipient. Although landscaping is the mainstay of Martin's business, amazingly he still finds time to produce 15,000 round bales per year, proof that the baling part of his business is still very important. In addition to a fleet of three New Holland balers, he has two older Vermeer balers, which he holds in reserve should they ever be needed. On top of all this, Martin also manages 150 breeding ewes on his farm in Gressingham, near Lancaster.
Martin confirmed that in baling this amount each year he has tried a number of different types of net, and was now looking forward to using the genuine TamaNet Edge to Edge netwrap. With his New Holland baler fleet, the supply of 28 rolls of 3600m TamaNet should fulfil his needs for this season at least, allowing his customers to see and appreciate the benefits of the full Edge to Edge wrapping technology.

Chicory Offers Potential Grazing Sward Value


Suzuka Winter Feed Barley Variety Launched


Crop Market Update