11/06/07

The National Beef Association had been given an unnecessarily bumpy ride by some determined critics over the £39,000 shortfall in its 2005 accounts but both its board, and its loyal staff, had been vindicated by confirmation of a £43,000 surplus for 2006, its chairman, Duff Burrell, told members at its annual meeting in Hexham, Northumberland on Friday.

NBA chairman, Duff Burrell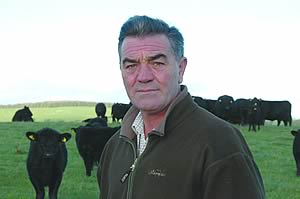 The 2006 accounts were robust, contained no fudges or improper write downs, and were open to any questions that the members might wish to put through Messrs McCowie, the Association's accountants,

However problems created by the breakaway of the Scottish Beef Cattle Association (SBCA) during this stormy period remained – not least of which was the inability of the NBA's board of management to regain possession of a Bank of Scotland account, through which the subscriptions of 82 of its Scottish members had been paid, and which has not been returned by former NBA office holders in Scotland who had since taken positions within the SBCA.

"The NBA has still not got access to this account and we therefore have no knowledge of exactly how much of our membership subscription income is still being paid into it or how much money it holds," explained Mr Burrell.

"We continue to ask the Bank of Scotland to acknowledge that this account was under the control of the NBA's board of management, should not be held by signatories who are no longer part of the NBA, and should be returned to the Association but so far no progress has been made and its management has not been restored to the NBA's directors."

Mr Burrell also explained that £11,000 of the £39,000 loss recorded in 2005 had been discovered within the regional account run by former office holders in Scotland.

"Other losses included £14,000 recorded by the NBA's central office as a result of successful investment into achieving charitable status and further investment to secure long term savings by moving the head office from Malvern to Hexham," he said.

"There was also a £10,000 loss in our South West region which had raised £20,000 in 2004 from its bi-annual beef event and retained £10,000 to spend on regional development projects over 2005."

"But the NBA's 2005 accounts also recorded an unexpected and unbudgeted £11,000 loss in our Scottish region and its office holders at the time were vociferous critics of the NBA's financial management even though they contributed to almost 30 per cent of the total shortfall."

"Fortunately these losses were more than corrected over 2006 when the Association not only increased its staff, and staff spending but also added considerably to the depth of the work load it successfully undertakes on behalf of beef farmers across the UK," he added.

United Call for Government Commitment over 2007 SPS Payments


Defra Animal Health and Welfare Plan Ignores Reality


SAC Energy Audits Help Reduce On-Farm Carbon Footprint