Defra Animal Health and Welfare Plan Ignores Reality
07/06/07
The Tenant Farmers Association has rejected plans contained in a DEFRA consultation document for greater sharing of the responsibility and costs of animal health and welfare policy between Government and farmers.
TFA National Chairman
Reg Haydon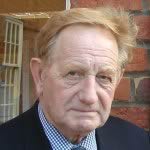 Speaking at the Cornwall Show TFA National Chairman Reg Haydon said "The consultation document starts with completely the wrong assumption that costs are not already shared between the Government and the industry. The costs of complying with regulations, regular testing, under-compensation for animals taken for disease control purposes and consequential loss are all borne by the industry but do not appear to be recognised by DEFRA. Any policy must start from the reality that there is already significant cost sharing between Government and industry and that applying further costs on the industry is not justified".

The stated, dual aims of the new policy are to reduce disease risk and regulatory burden. However, it is clear that the real reason for the proposals is to reduce the cost of disease control faced by the exchequer.

"The Government's wish to package a cost-saving exercise in terms of benefits to animal health and welfare is inappropriate. The TFA rejects the Government's fundamental premise that the industry should pay more for disease control costs" said Mr Haydon.

"The farming industry is also becoming weary of the clichéd use by the Government of the term 'partnership' when it comes to animal health issues. There has been very little evidence of partnership to date. With bovine TB, the biggest animal health issue facing the South West and the wider country at the moment, the introduction of pre-movement testing, the use of tabular valuations and the non-implementation of a cull of TB affected badgers are all evidence that the Government's rhetoric on partnership is not transferred into action. The Government is naive if it thinks that TB will not cast a large shadow over its future policy on animal health" said Mr Haydon.

"There is also the sense that the Government wants to distance itself from making difficult decisions on disease control by passing them to another body. No–one wants to see a cull of badgers but if that is what is needed to control the spread of TB then that is what must be done. The TFA's position is clear - take the necessary action on TB and then we can talk about future policy" said Mr Haydon.

Defra Money for Farm Health Planning


Badger Trust Warns Vet's Evidence Based on Anecdote


NFUS-Led Group Tests New BVD Strategy